Cameo Glass Update: Lalique and DaumBy
Mark Chervenka
Cameo glass update
"Lalique" cameo
A 10-inch cameo glass vase signed Lalique! It must be "rare and unlisted, right?" No, just another fantasy product from Eastern European glass makers.
It's remotely possible Rene Lalique may have made an experimental piece of cameo glass, but no authentic examples of production cameo glass by Lalique are known. Lalique virtually never used acid to cut through colored glass overlays. The great majority of authentic Lalique is made from a single homogeneous piece of glass.
The engraved signature on this example is not authentic. Authentic pre-1945 engraved marks are almost always, "R. Lalique, France." Correct post-1945 engraved signatures would be "Lalique, France." But since the new vase is made in Romania, France can't be included on the new vase without violating country of origin labeling laws.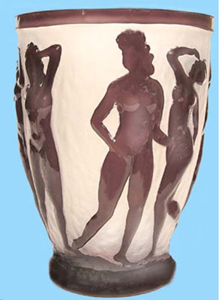 Daum Crows Copied
One of the more sought after vintage products of Daum Nancy's glass shops is a series of pieces decorated with crows. Although this may seem a strange subject, it was part of the widespread interest in nature which characterized the Art Nouveau period.
Daum's original crow-decorated pieces, like their more famous "seasons" series, rely on enamel and vitrified powders for color rather than contrasting glass overlays. The decoration is often linked with cameo glass because the surface is manipulated and decorated with acid cuttings.
The acid cuttings serve two purposes: one, to dull the naturally slick surface so enamels and powders can fuse to the glass more efficiently, and secondly, to raise or outline the design by cutting back the background. Applying enamels and powders to the raised designs gave artists the ability to create the illusion of great three-dimensional depth to such pieces with light and colors.
An additional technique used on the seasons pieces and on many of the better crow pieces was adding colored powders to the surface or in between the body of the glass and a clear overlay. This gives a soft misty effect suggesting rain, fog, mist or snow.
The new crow pieces, of course, have none of this skilled work. Birds in flight are little more than crude squashed V-shapes. The snow on the trees is garish layer of white glass. Nor do the new pieces have ground pontils found on virtually all originals. New pieces are signed Daum Nancy in raised glass with a nearly identical copy of an original signature.
The new tapering cylindrical vase shown here is about 12 inches tall. Another new crow vase about the same size has a bulbous base. A new 12-inch two-piece lamp with crows is also available.