Cameo Glass from the Early 1990sBy
Mark Chervenka
Cameo Glass from the Early 1990s
Most reproduction cameo glass produced in the early 1990s was made by sandblasting. The vast majority of vintage cameo glass made during the late 19th century through the early 1930s was made by acid etching.
In acid etching, the desired design is protected by a painted on resist, usually a thinned down tar. With sandblasting, the design is protected by a mask or stencil, usually made of metal but can also be rubber. Glass in the unprotected openings are removed by the acid or sandblasting. Areas protected by the resist or stencil form the resulting raised design. You can generally tell which method—acid etching or sandblasting—was used by looking at the edges of the raised pattern.
The edges of acid etched designs are generally softer and more rounded than lines on sandblasted pieces. Acid, because it is a flowing liquid, can be guided but not precisely controlled. These soft lines are caused by the liquid acid flowing around and sometimes slightly under the resist. Different strengths of acid could also be used to achieve different surface textures.
Edges produced by sandblasting are crisp and hard. This is caused by the sand striking the glass at a right angle through the mask or stencil. Masks and stencils, made of thin metal or rubber, are much heavier than the painted acid resists and protect the glass better than resists. As a result, sandblasted cameo generally has a sharp boundary line between the raised design and the background. The surface of sandblasted cameo is generally all the same, flat and smooth.
Another way you can tell if a stencil has been used is to look for gaps in the design. Flower stems, for example, are not one continuous line (Fig. 5). The presence of these gaps indicate the use of a stencil which means modern sandblasting.
Sandblasting doesn't necessarily mean poor quality. In the early 1970s, Webb-Corbett of England experimented with a two color line of sandblasted cameo it called "air carved." Since the mid-1980s until they closed in 2001, the Pilgrim Glass Corporation of Ceredo, West Virginia, specialized in what the firm called "sand carved" cameo (Fig. 3). They offered pieces made in up to six overlays. Prices started at under $100 for small pieces to 4-figure prices for larger items; all pieces were signed and sold with certificates of registration.
New cameo by firms like Pilgrim and Webb-Corbett pose little threat to collectors of antique cameo. All the pieces are signed, dated and easily traced and their initial high price doesn't give a faker much profit. The cameo that causes the most confusion is new cameo made in France and Taiwan (Republic of China).
Taiwan Cameo
The first pieces of new sandblasted Taiwan cameo were marked with removable paper stickers only. Later, about 1992, raised glass Galle signatures began to appear on new Taiwan cameo. The new Galle signatures are virtually exact copies of original signatures so signatures can't be used as a test of age. The best way to detect the new Taiwan cameo marked Galle is by the poor quality of construction.
First, all the ca. 1990s Taiwan cameo was made by sandblasting which produced sharp-edges in the raised glass designs. Look for small gaps in the design which indicate the use of stencils. Virtually all the top rims of new Taiwan cameo are ground flat (Fig. 6) and the new bases do not have ground pontils. Original Galle always has rounded top rims, not ground flat rims. Original Galle also virtually always has ground pontils in the base. Virtually all the new Taiwan cameo also has streaked glass body glass. This is practically never found in original Galle.
New Cameo from France
The majority of new cameo from France in the early 1990s was made by Cristalleries et Verreries. Fortunately, its new cameo was almost always permanently marked "de Vianne." Buyers unfamiliar with original cameo glass frequently assume de Vianne is the name of a vintage maker of French cameo glass. All products marked de Vianne are modern; there are no pre-1930 pieces of cameo marked de Vianne.
De Vianne is made primarily with sandblasting. Small gaps in the designs are evidence of stencils. However, a limited amount of wheel grinding was also used on de Vianne pieces, especially larger items. De Vianne cameo lighting shades were still being made through 2004.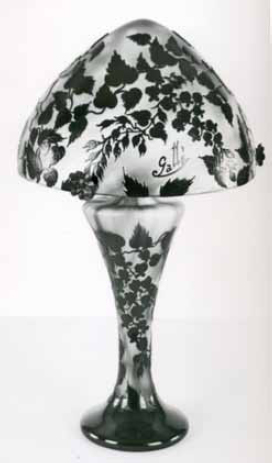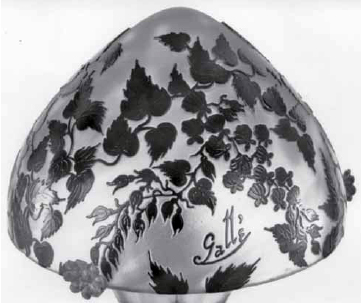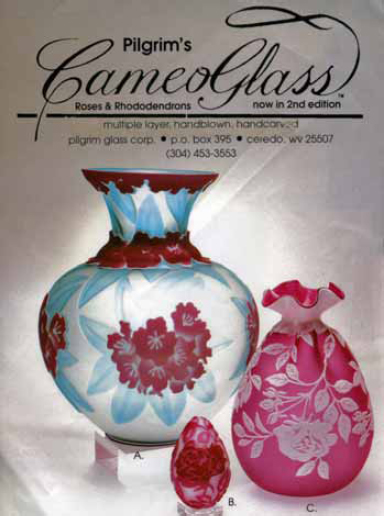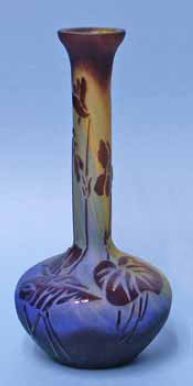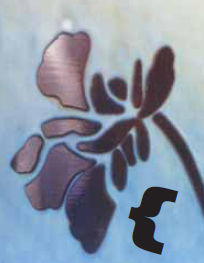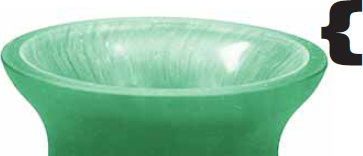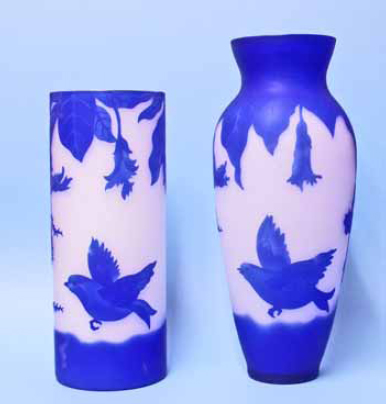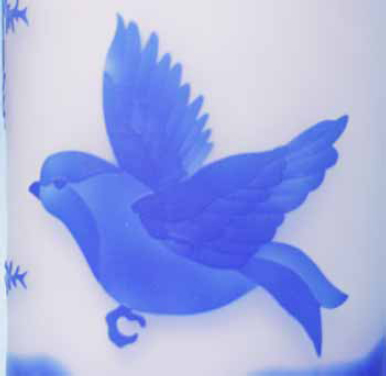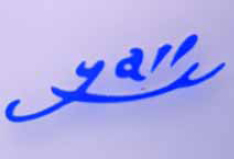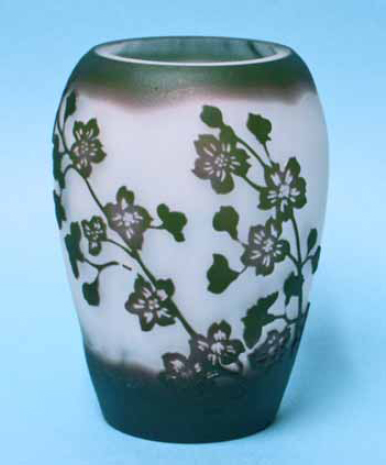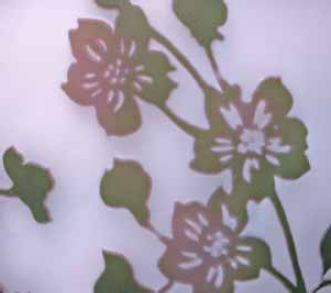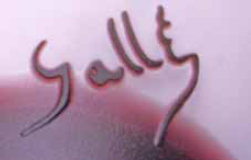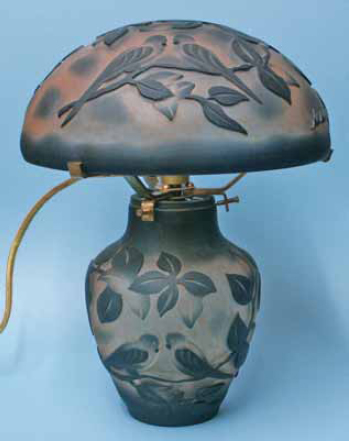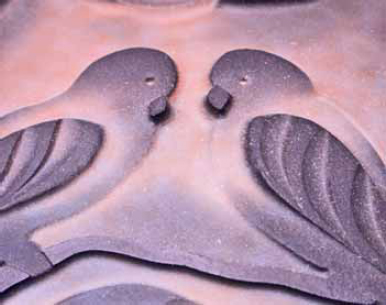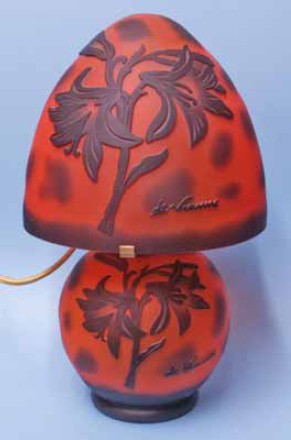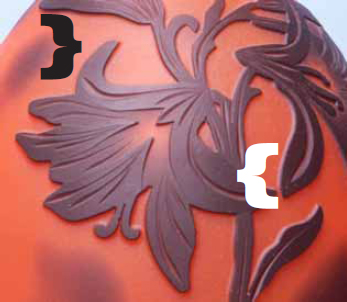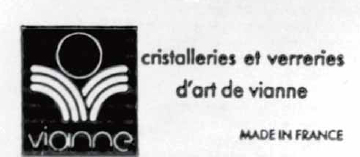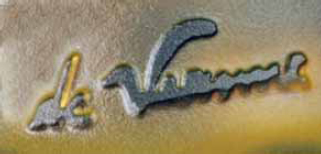 Real Or Repro is an industry resource powered by
a vetted marketplace of dealers and winner of numerous
Ecommerce Bytes Sellers Choice awards
for Quality, Usability, Customer Service, Communications and Most Recommended Selling Venue
---
So now,
Our Ruby Lane Shop Owners
invite You
to shop with them for the
Real Deal
on Ruby Lane ...
View More Similar Items