Buffalo Pottery Game Plates CopiedBy
Mark Chervenka
Buffalo Pottery Game Plates Copied
New Plates Include Old Appearing Mark
Reproduction ceramics with Buffalo Pottery marks first started appearing in late 2001. Those pieces were relatively easy to identify. The image of the "buffalo" in the fake marks on those pieces was an Asian water buffalo with large crescent-shaped horns. Another fake mark appearing about the same time was simply the word "BUFFALO" in uppercase letters. Both fake marks were applied as a transfer but have a hand painted appearance. The single word "BUFFALO" only was never used on authentic Buffalo Pottery.
The image of a buffalo on authentic marks is an American Bison, not a water buffalo. Marks on virtually all authentic pieces made between 1903 and 1940 are also dated with the date appearing under the words "Buffalo Pottery." But dates alone are not a guarantee of age; the fake marks also include a date.
When evaluating a mark, look for well-formed letters and a well-defined line-drawing of a buffalo. Lettering in original marks looks printed with sharp dark lines. Lettering in most new marks is weak, poorly formed and sometimes looks hand painted rather than printed. Marks on most authentic Buffalo Pottery also include the type of clay or design or series name such as Semi-Vitreous, Albino, Robin Hood and others. Similar names on the fakes do not match known originals and, if present, are sometimes misspelled. "Semi-Vitreous," for example, has been reported on some new plates spelled "Simi" with two i's.
Beyond the mark, you should also check the shape of the blank. The design on the plate in Fig. 1 with deep blue-green border, for example, titled "Wild Ducks," was part of an authentic Buffalo Pottery game set depicting fowls introduced about 1907. Virtually all original plate blanks in this set have a scalloped rim. The recent reproduction of this plate has a perfectly smooth rim.
Keep in mind that we are discussing the very rim, or edge, only. The plate's borders, the band extending about 1½-inch in from the edge, shows some variation among originals. This area in the example shown here, Fig. 2, has some raised scrollwork. But some other originals in this series have smooth borders without raised scrollwork. When you are asking questions about a plate, be specific. The rim, or edge, is not the same as the border. All old rims, or edges, are smooth. But old borders may be raised or smooth.
Color and transfer design are not reliable tests of age. The transfers on both new and old plate shown here are identical. The color on the reproduction is also a nearly perfect copy of the original.
The Buffalo Pottery Co. was begun by the Larkin Company, a 19th century firm selling soap and other household goods by mail. Buffalo Pottery was first used exclusively as Larkin sales premiums but later the pottery was run as a separate business.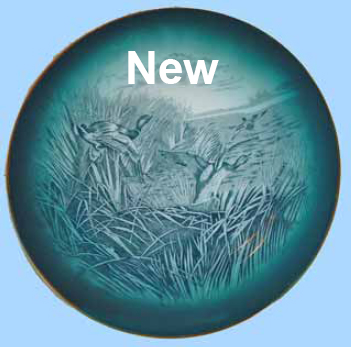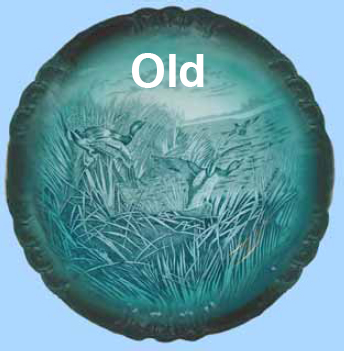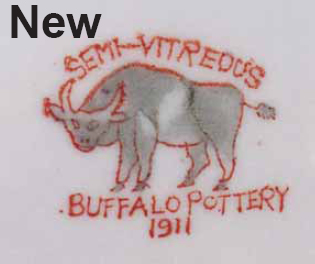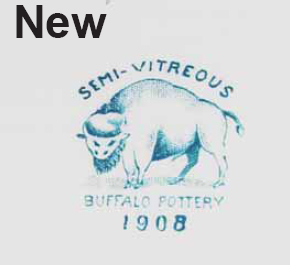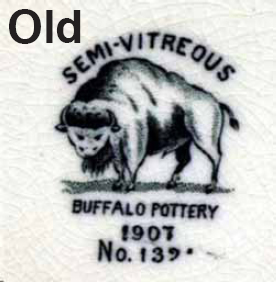 Real Or Repro is an industry resource powered by
a vetted marketplace of dealers and winner of numerous
Ecommerce Bytes Sellers Choice awards
for Quality, Usability, Customer Service, Communications and Most Recommended Selling Venue
---
So now,
Our Ruby Lane Shop Owners
invite You
to shop with them for the
Real Deal
on Ruby Lane ...
View More Similar Items