Brush-McCoy vs. Brush McCoy: Cookie JarsBy
Mark Chervenka
Brush-McCoy vs. Brush McCoy: Cookie Jars
Brush-McCoy Pottery Co. expired over 75 years ago but the name is very much alive today. Despite never producing a single cookie jar while it existed, an ever growing number of new jars are marked Brush McCoy.
To understand the difference between Brush-McCoy and Brush McCoy, we need to go back to the first-quarter of the century.
The original pottery, Brush-McCoy Pottery, operated between about 1911 to 1925. It was formed by combining the companies of Nelson McCoy and George Brush. McCoy sold his interest around 1918 leaving Brush in control. The company name remained unchanged until 1925 when it became Brush Pottery reflecting Brush's sole ownership.
Brush Pottery is credited with being among the first American potteries to produce cookie jars. It introduced its first in 1929. From simple early shapes, Brush and other potters gradually introduced more elaborate figural cookie jars in the mid-1940s. Cookie jars continued to be an important part of the company's production until it closed in 1982.
Brush-McCoy Pottery, remember, went out of existence in 1925. It was Brush Pottery in operation 1925-1982, that made the cookie jars, not Brush-McCoy.
Original Brush Pottery cookie jars are among some of the hobby's most expensive. Its Hillbilly Frog, for example, produced in 1968, is valued at over $4000. Many other Brush Pottery jars range from $400 to $800.
Maybe that's why some manufacturer came up with the idea of marking reproduction cookie jars Brush McCoy. Although no similar mark ever existed, it began to be used on new jars around the mid-1990s. New marks also include include a paintbrush positioned between the words Brush and McCoy. All of the new marks are in raised molded lettering under glaze on the bases.
At first, the marks only appeared on reproductions of jars made by the original Brush Pottery. Now the mark appears on jars by other vintage makers. The reproduction jar in Fig. 4, for example, was made by Shawnee Pottery and is known as Mugsy. It is marked Brush McCoy as shown in Fig. 5. Finding Brush McCoy marks on jars known to originate from other potteries is an obvious clue that you're looking at a fake.
Some elements of the new mark are somewhat similar to original Brush Pottery marks. Perhaps the most confusing is the appearance of the letter W followed by a number. In original Brush Pottery cookie jars, the W indicated jars designed by Ross and Don Winton of Twin Winton Ceramics. The number corresponded to specific designs. The original elephant with ice cream cone, for example, has a W-8 molded in the base. The new Brush McCoy elephant is also marked with a W-8.
Not all original Brush Pottery cookie jars are marked. If marked, many marks may only include a number or USA and a number. As a general rule, all authentic Brush Pottery marks found on cookie jars are incised or impressed below the surface. So far, all the new Brush McCoy pottery marks have been in raised molded letters.
Two typical impressed Brush Pottery marks are shown in Figs. 6 and 7. The paintbrush in the new marks may come from the use of an artists palette in some genuinely old marks like the one in Fig. 6. But no original Brush Pottery mark used a large paint brush as found in the new mark.
Although Brush McCoy was never used on vintage cookie jars, it causes collectors many problems. Ellen Supnick, one of the country's leading writers and dealers in cookie jars has been seeing the problem for a number of years.
"The Brush Mc Coy mark started turning up about in the early 1990s when lots of repros started hitting the market," said Supnick. "I tell people Brush McCoy never made cookie jars but they believe what they want."
Most of the reproduction jars with the Brush McCoy mark also show heavy pronounced crazing. Collectors often mistake the crazing as a sign of age which it is not. The crazing is added to new jars at the time of manufacture.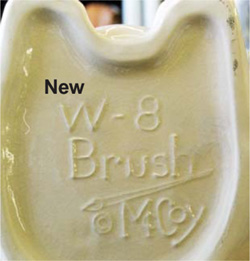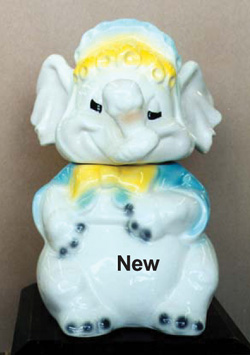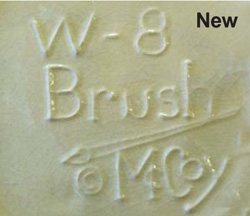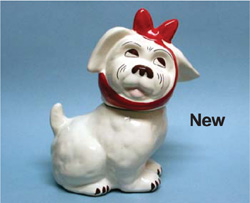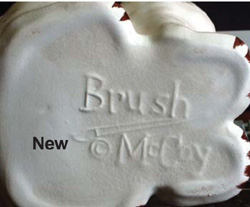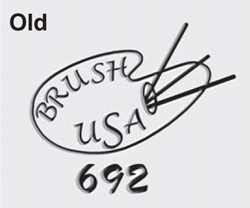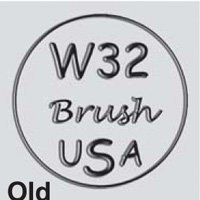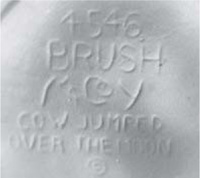 Real Or Repro is an industry resource powered by
a vetted marketplace of dealers and winner of numerous
Ecommerce Bytes Sellers Choice awards
for Quality, Usability, Customer Service, Communications and Most Recommended Selling Venue
---
So now,
Our Ruby Lane Shop Owners
invite You
to shop with them for the
Real Deal
on Ruby Lane ...
View More Similar Items