Bohemian Glass: Reproductions of Old DesignsBy
Robert and Deborah Truitt
Bohemian Glass Reproductions of Old Designs
Defining "reproduction," "replica" and "vintage" glass is a challenge in itself. Identifying it is even more difficult. We use the term "replica" to describe glass that is a copy of an older design, with no intent to deceive the buyer–usually there is some small difference between them. But an uninformed or dishonest seller can pass replicas off as vintage. As Ronald Reagan used to say: "Trust, but verify."
We have said many times that the Bohemian glass industry keeps one eye on the past and one eye on the future. Glass school students are well grounded in 18th and 19th century techniques, as well as those that are the most advanced. Research facilities constantly produce new formulas and techniques for the entire spectrum of the glass industry: industrial, laboratory, architectural and hollow glass.
If you visit any large showroom in the Czech Republic today, you will find designs by such avant-garde artists as Vladimir Klein (Crystalex), Erika Houserova and JíYí Suhajek (Moser), and Paval Hlava (Egermann Company). Art glass galleries also include products designed by top glass artists but produced in smaller glass houses, such as that of Beranek or Ajeto.
Czech glass companies keep glass products in production for many years. Some of the Egermann-style, red-stained engraved glass has changed very little in the past 100 or more years. Nor has the white, high enamel technique depicting human, animal and floral motifs (painters call this high enamel "plastic"). Another example of classic Bohemian glass technology is overlay glass, cut to reveal the underlying color(s). This form of art glass has been in continuous production since the early 1830s.
Bohemian glass made between 1750 and 1940 can compete favorably with the glass industry of any country. Even so, Friedrich Egermann–one of the foremost glass innovators of his time–produced painted glass in the style of his predecessors Kothgasser and Mohn, who decorated glass in Vienna. The swartzlot (black) paintings of Ignatz Preissler have been replicated by every generation of painters for 200 years. There can be no doubt that the Art Nouveau and Art Deco glass made by Harrach and Loetz will serve as models for glass makers for many years to come.
Sometimes replicas occur as the whim of one particular person to challenge the past, but it also happens that a particular style will come back into fashion after 75 or 100 years: neo-classicism, neo-rococo and Second Biedermeier are all fashions that have had a successful revival.
One of the most accomplished painters in the Czech Republic is JiYi Hortensky. Hortensky (of Novy Bor and Kamenicky Senov) has worked closely with the Glass Museum in Novy Bor and others to produce replicas of Biedermeier and Rococo beakers. He faithfully copies the original with only the slightest change to set his work apart. His work is nearly always signed. Museums and collectors often use his work as substitutes for vintage examples that cannot otherwise be obtained.
The glassware produced by Heinrich Hoffmann and Henry Schlevogt in the 1930s is still immensely popular. Today it is being produced by Ornela under the Desna label. The Moser firm in Karlovy Vary produces innumerable designs dating back to 1900 and occasionally even earlier. The Exbor Studios had its beginning as the Lobmeyr workshop in Kamenicky Senov; it moved to Novy Bor and was incorporated into Egermann-Exbor in 1962. The 1950s saw an explosion of artists who either specialized in glass only or provided designs for glassmakers on an occasional free-lance basis. Legends such as Vera LiSkova, Ludvika Smrckova, Stanislav Libensky and Pavel Hlava created designs that will still be in production 100 years from now. Over and over glass has proven that grand designs are timeless.
Museum gift shops usually stock a fine collection of replica glass, often reminiscent of the type of glass traditionally produced in the area. In Prague, the Arts & Crafts Museum has a fine selection of articles that nearly equal some Loetz designs produced between 1914 and 1930. The Kamenicky Senov Glass Museum has a particularly nice grouping of liStovane, originally made by Franz Heide and by Jilek Brothers in the early 1900s. The Novy Bor Glass Museum has a large selection of both historical glass fashioned after the forest glass of the 16th and 17th centuries and copies of painted glass from the 19th and 20th centuries. Museums aren't alone in the sale of replicas; the Egermann Company and Crystalex (both in Novy Bor) produce a large variety of glass designed in the 19th and 20th centuries.
Whether a new piece is called a replica or reproduction is a matter to be discussed by philosophers and crooks. As one politician said: "I can't define it, but I know it when I see it." Like it or not, new glass is in the American market and often described as vintage. While new glass can be a great source of enjoyment when honestly represented, fraudulent marketing can be painful for the victim.
Cameo Glass: Sandblasted or Acid Etched?
Even a casual examination of cameo glass will reveal two distinct characteristics. First, the modern sandblasting technique produces an extremely sharp edge, while acid-etching produces a slightly irregular edge. Second, a sandblasted surface is very smooth, while acid produces a rough tapioca-type surface.
See more new glass with old designs at the following web sites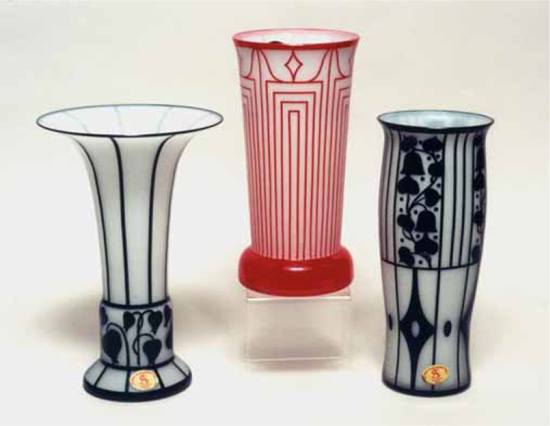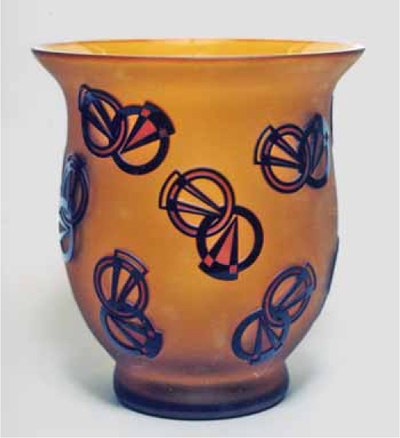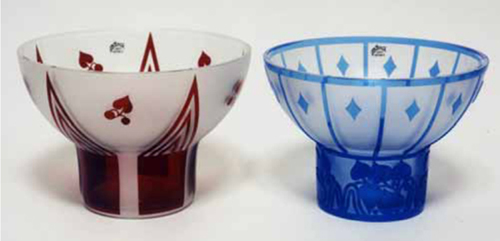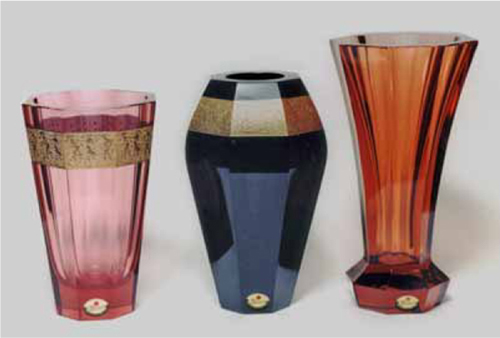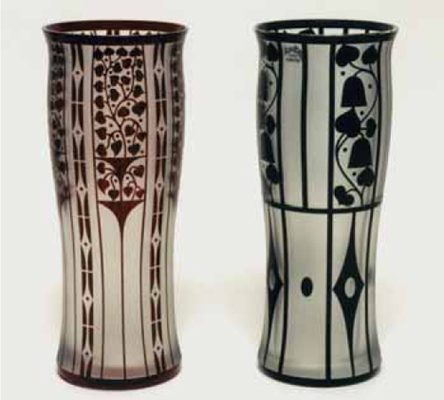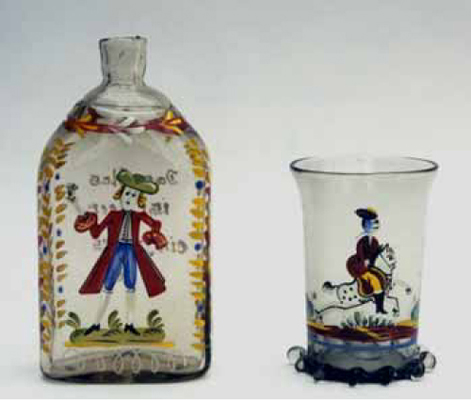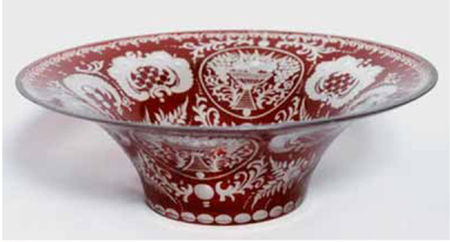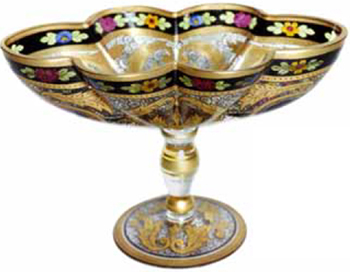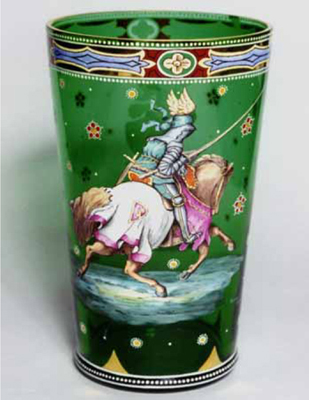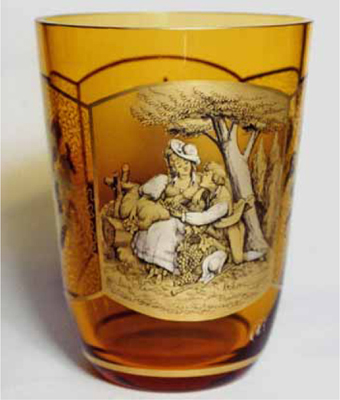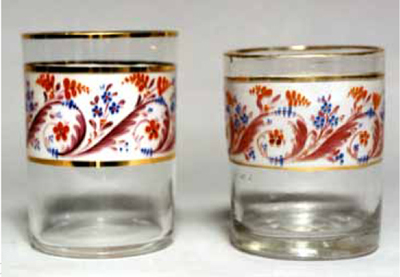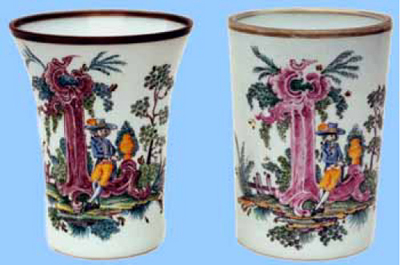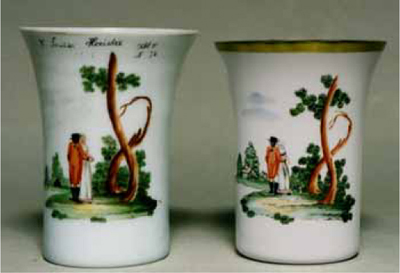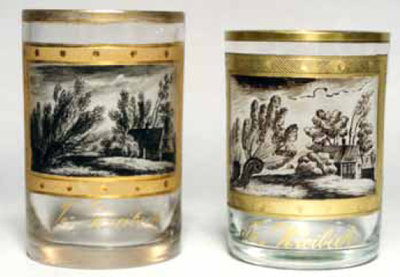 Robert and Deborah Truitt are leading experts on Czech glass. Their books Collectible Bohemian Glass 1880-1940 and Collectible Bohemian Glass Vol II, 1915-1945 are standard references on the subject.
Real Or Repro is an industry resource powered by
a vetted marketplace of dealers and winner of numerous
Ecommerce Bytes Sellers Choice awards
for Quality, Usability, Customer Service, Communications and Most Recommended Selling Venue
---
So now,
Our Ruby Lane Shop Owners
invite You
to shop with them for the
Real Deal
on Ruby Lane ...
View More Similar Items