Blue Transferware: Flo Blue, Ironstone, Blue Willow, StaffordshireBy
Mark Chervenka
Blue Transferware: Flow Blue, Ironstone, Blue Willow, Staffordshire
Flo Blue, Blue Willow, and Staffordshire Historical Blue are all names of various wares decorated with underglaze transfer designs in cobalt blue. Although limited reproductions of all those types have been made for many years, new blue transferware now occupies entire pages of reproduction wholesale catalogs. Several American wholesalers each sell over 40 new shapes; one English supplier offers nearly 100 pieces.
Many new pieces have patterns identical, or at least very similar, to authentic 19th century patterns. These old-appearing patterns are applied to new pieces made in 19th century shapes such as tea caddies, toothbrush holders, pitcher and wash basins and others. Almost all the reproductions are also marked with symbols, trade names and words found in original 19th century marks.
In other words, it is increasingly common to find new blue transferware with original patterns on 19th century shapes with marks of well-known 19th century manufacturers. Knowing just a few basic differences between new and old will help you detect and avoid the great majority of these confusing copies.
The Transfer Process
We need to begin our discussion with a quick review of the transfer process. Decorating ceramics with printed transfers was developed in the middle of the 18th century as a substitute for expensive hand painting. Low cost, mass-produced transfer ware made decorated china affordable to middle-class families.
Here are the basic steps in transfer printing. First, the design is engraved into a sheet of copper which could either be flat or mounted on a roller. A separate engraving is fitted to each shape. Next, for Flo Blue, Blue Willow and similar wares, a blue pigment is deposited in the engraved design on the copper sheet. Transfer paper, which resembles tissue paper, is then pressed against the copper and the pigment is transferred to the paper. The paper with the pigment, is now applied to the unglazed china. The paper is either soaked off in water or burned off at low temperature leaving the design in blue. The china is now covered with a clear glaze and fired at high temperature. This basic system produces the characteristic blue underglaze decorations found in the blue transfer ware discussed in this article.
Why was blue used? Cobalt blue was the best and least expensive pigment capable of withstanding the high temperatures of 18th and 19th century kilns. Blue was also the color of decoration used in expensive hand painted porcelain imported from China. From a distance, factory-made blue transfer resembled porcelain used by the rich and famous.
Under the broad generic term, "blue transfer," are many subcategories based on pattern such as Flo Blue, Blue Willow and Historical Blue (Figs. 5 to 7). All were made by essentially the same transfer process previously discussed. Blue Willow refers to a pattern based on a Chinese love story featuring the lovers on a bridge. Staffordshire, or Historical, Blue features patterns based on important landmarks, scenes from history and commemorative events.
Of all the blue transfer ware, only Flo Blue was made slightly differently than the other blue transfer wares. The ink and ceramic blanks of Flo Blue were deliberately designed to allow the ink to "flow," or spread, into the blank. The spreading ink creates the characteristic blurred or distorted Flo Blue effect.
While most of the new pieces are in blue only, some transfers are also available in multiple colors. Most of the multicolored transfers are similar to handpainted decorations found on authentic 19th century Ironstone, not necessarily blue transfer ware. The multicolored pieces are included in this article because they share many of the same new marks and are constructed in the same manner as the blue-only pieces.
Shapes and Blanks
With few exceptions, shape is not generally a very reliable clue to age. Most reproductions are copied from original 19th century shapes like the toothbrush holder in Figs. 8-9, the chamber pot in Fig. 1, the sugar pot in Fig. 2, the Ringtons Tea jars and even rare shapes like the shaving basin in Fig. 3.
The exceptions are the fantasy shapes, shapes and forms never made in the 19th century. Typical fantasy shapes are the Flo Blue reamer in Fig. 12 and the Blue Willow oil lamp in Fig. 22. Apparently reproduction importers think there is enough demand by reamer and lamp collectors to make these shapes profitable. As a general rule, be suspicious of any shapes you can't find in a reference book.
Other exceptions are not so easily detected and require specialized knowledge. The original Ringtons Tea teapot, for example, is a low, oblong shape. The new teapot in Fig. 23, and a similarly-shaped new teapot with a longer spout (not shown), were never made in original production. Fortunately, the new Ringtons Tea items can be detected by other features such as glaze, construction and other details discussed below.
Glaze and Construction
Virtually without exception all vintage blue transfer wares are fully glazed. This includes inside and outside surfaces and top and bottom rims. This is logical for practical daily use – unglazed areas would permit water to get behind the glaze and destroy the surface. Dirt and grease could also penetrate unglazed areas and make dinnerware impossible to clean. Reproductions aren't made for practical use, though; they are made as "antiques," objects to be looked at, not used. That's why the vast majority of new blue transfer pieces are not glazed in critical areas.
With rare exception, all the reproductions have broad, unglazed standing rims (Fig. 16) It is not uncommon on even relatively small shapes, such as hatpin holders, to have unglazed rims ½-to ¾-inch wide. Despite having glaze over their new marks, the glaze does not extend to the new flat standing rims. The vast majority of originals are fully glazed and rest on very narrow, raised standing rims seldom wider than 1/8-inch, sometime only 1/16-inch on small items.
Unglazed rims on new lids are especially obvious. A lid from a new toothbrush holder in Fig. 13, for example, shows a ½-inch wide unglazed rim typical of all the new lids. The rim over which this lid fits is also unglazed. Apparently, any area which doesn't show in the reproductions is left unglazed. All the items with lids shown in this article–chamberpot, reamer, tea jars, etc.–have wide, unglazed rims on their lids with matching wide unglazed rims on which they rest.
New glaze on the majority of the reproductions also has a definite blue to blue-green tint (Fig. 15) Glaze on original 19th century blue transfer ware generally has no tint. Originals that do have a tint are usually off-white or gray, not the obvious blue-green of the reproductions. The blue-green tint is most obvi ous on the earthenware-bodied reproductions made in China since the mid-1990s. Japanese-made reproductions in true porcelain, show virtually no tint.
One final factor to consider when evaluating construction, is to inspect all handles, knobs and finials. These features on originals are solid; they were made as separate pieces and attached to the main body. Many, but not all, reproductions with blue transfers, are made by slip casting. Slip cast pieces are made in a one-piece mold which includes handles, knobs and finials as part of the overall piece. Slip cast handles, knobs and finials are hollow; there will be a hole where they join the body or a lid (Fig. 14) This is particularly true of reproductions from Japan and Europe. Recent imports from China do have separately applied solid handles, knobs and finials like originals.
Marks
The majority of new marks are either direct copies of originals or based on the general appearance of originals. Perhaps the most striking difference between new and old marks is size. Most new marks average 2 to 3 inches across regardless of the size of the piece on which they appear. Virtually no original mark even approaches those dimensions. Most authentic marks on 19th century blue transfer wares are rarely over 1 inch in size. In other words, old marks are almost always about the size of a quarter, virtually never larger than a half-dollar (Figs. 30-32) Any mark larger than a half-dollar is extremely suspicious and almost certain to be new.
The next most obvious group of new marks are those which include modern symbols such as trademark (&tm;), registered trademark (®) and copyright (©). Any mark with those symbols is almost certainly to have been made since the 1950s, definitely made after 1900, usually not used until the 1920s at the earliest. Those symbols are particularly useful when dating the products of legitimate potteries that are in business today under the same name as their Victorian founders such as Masons, Ridgway, Royal Doulton, and others (Fig. 37) Other obviously modern terms to avoid are "detergent proof,", "oven safe," "dishwasher safe," and, of course, "microwave safe."
The next test is to look for generic names in the mark. No one ever walked into a 19th century china shop and said, "Excuse me, my good man, kindly direct me to the Flo Blue." Flo Blue, Historical Staffordshire and others names, are generic terms coined by modern antique collectors. Such terms were never used in original 19th century marks. These words have been included in fake marks to suggest age and quality where none exists (Fig. 33).
The only exception is "Ironstone," which was originally a late-18th century trade name. By the mid-19th century, however, it entered the language as a generic term and has continued in that use to the present day. Original 19th century marks with "Ironstone" virtually never appear without a company name, such as "Mason's," "Woods & Sons," etc.
The absence of key words in a mark is a valuable clue to age. For example, virtually all authentic 19th century blue transfer wares–with the exception of Blue Willow–are marked with the country of origin and company name. Marks on most, but not all, authentic 19th century Flo Blue, Historical Staffordshire and Ironstone also include pattern names. Pattern and company names were an important part of original marks because they helped customers order replacements and add to a service.
With few exceptions, marks on reproductions have no country of origin and no company name. The vast majority of new pieces are from China and that country's name usually appears as a removable paper label which is quickly removed in the secondary market. Marks with no country of origin, pattern name or company name are almost certain to be of recent manufacture.
Many new marks on reproductions are based on the British Royal Arms, a heraldic device with a shield in the center surrounded by a lion on one side and a unicorn on the other (Figs. 39, 41-42). Look in any book on marks, and you'll find many 19th century companies used the Royal Arms in their backstamps. When you find such a mark, apply the rules previously discussed. Beware of unusually large marks and marks without a country, pattern or company name.
We have no explanation of why the word "Victoria" appears so often in new marks. There is no famous or well known 19th century mark that uses the word. There are a number of 19th century patterns named "Victoria" and several relatively minor potteries with "Victoria" in their names, but we could find no authentic 19th century mark with "Victoria" and the British Arms.
Summary
Some collectors like to buy reproductions for everyday use. Think twice before using any of the new blue ware to serve or store food. Almost all the Chinese-made reproductions have potentially harmful glazes. When the new pieces arrive from the wholesaler they have paper labels warning against using the items for food. These labels are usually removed long before the items are offered for sale in the secondary market.
This article shows only a fraction of the many shapes and patterns available. There are undoubtedly other new and fake marks also in use.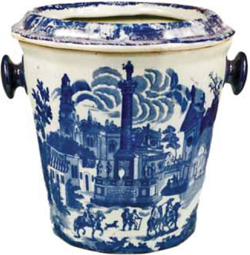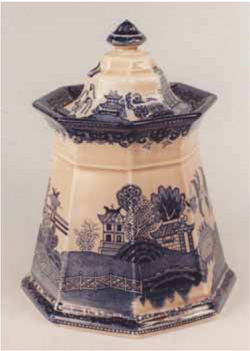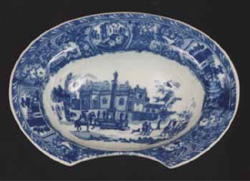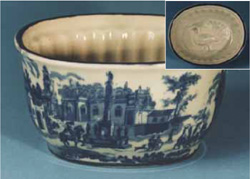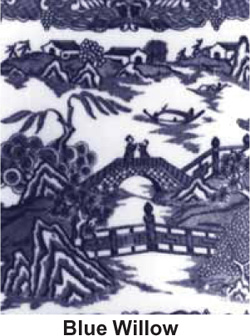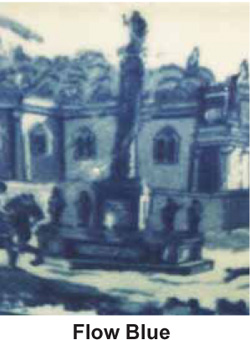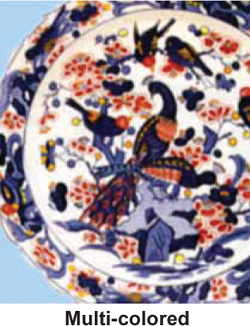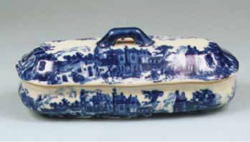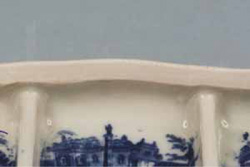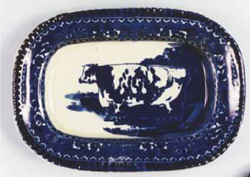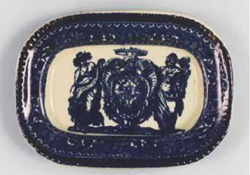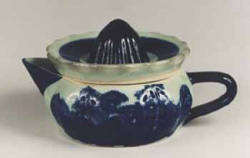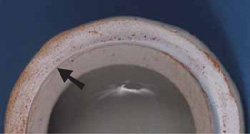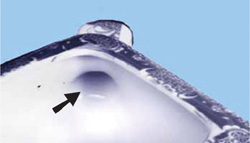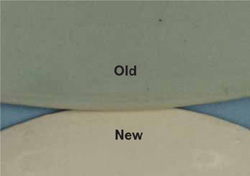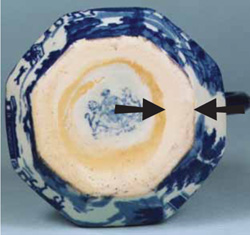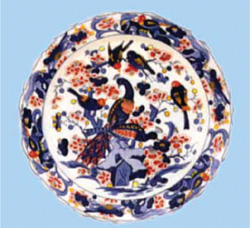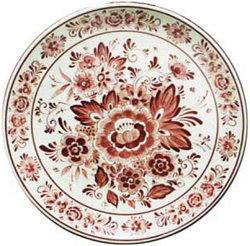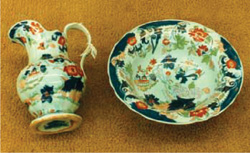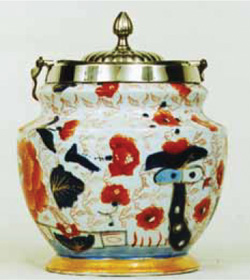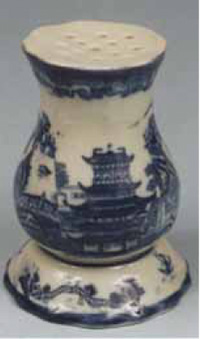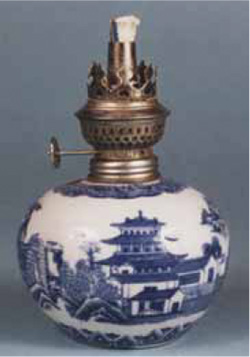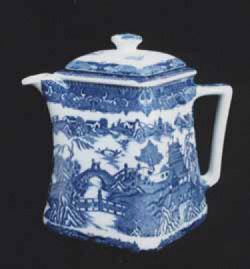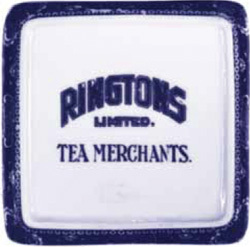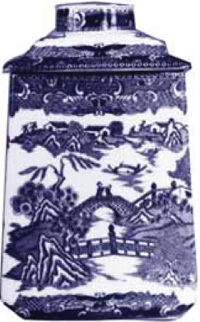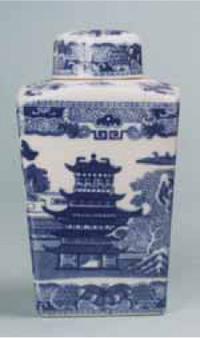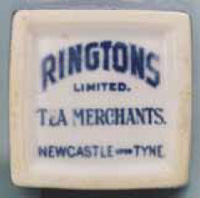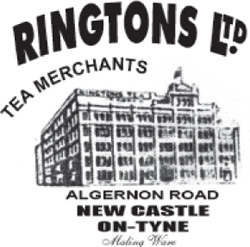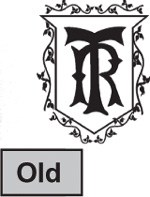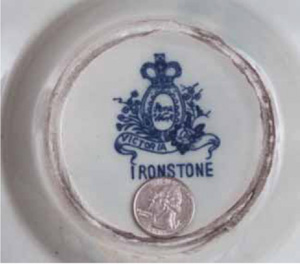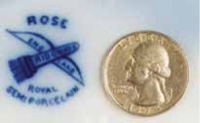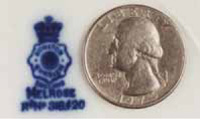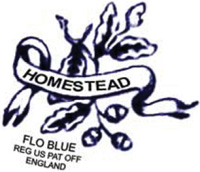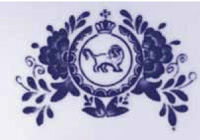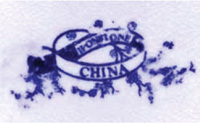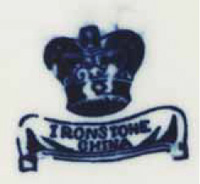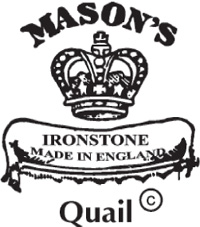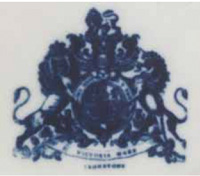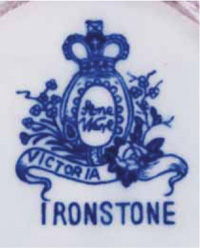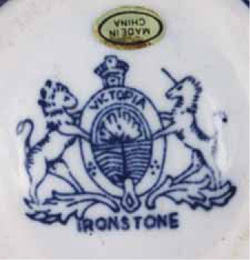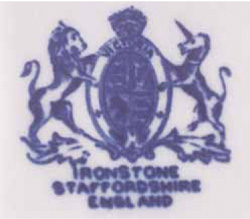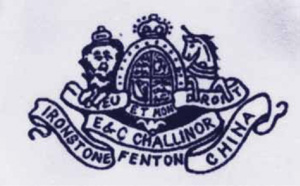 Real Or Repro is an industry resource powered by
a vetted marketplace of dealers and winner of numerous
Ecommerce Bytes Sellers Choice awards
for Quality, Usability, Customer Service, Communications and Most Recommended Selling Venue
---
So now,
Our Ruby Lane Shop Owners
invite You
to shop with them for the
Real Deal
on Ruby Lane ...