Blue and White Stoneware Kitchen CanistersBy
Mark Chervenka
Blue and White Stoneware Kitchen Canisters
Most pieces of new molded "stoneware" have been relatively simple shapes such as pitchers, bowls and mugs. However, sometimes a more sophisticated imitation is made, such as this complete set of kitchen canisters.
The new set is a direct copy of an authentic vintage pattern. In both the original and the copy, a basket weave texture is embossed over the entire surface. The ingredient name appears on a raised molded scroll, or banner, on the front side only. Both old and new are made in two sizes, about 7 and 4 inches tall. Original 7-inch jars sell for about $250-$350; smaller jars, $125-$200. The new jars were sold as a four-piece set for $75 and came in four graduated sizes.
There are several key differences between old and new. The most obvious is an extended lip in the new lids (Figs. 5). This lip is grooved to hold a plastic ring which seals the new jars. Even if the new ring is removed, the grooved extension is a clue that the lid is new. The vast majority of vintage canister lids (Fig. 6) have straight sided inner lips without a groove and rarely extend as far as the new lips.
Old 7-inch basket weave jars have a morning glory pattern on the back side. No morning glory pattern appears on the back of the new 7-inch basket weave jars. Some, but not all new jars are marked C.M.I., the mark of Crazy Mountain Importing, an American giftware importer.
The new jars are a relatively thin fired ceramic material. Original pre-1930 stoneware is much thicker and heavier.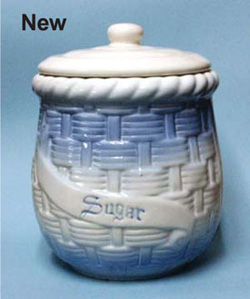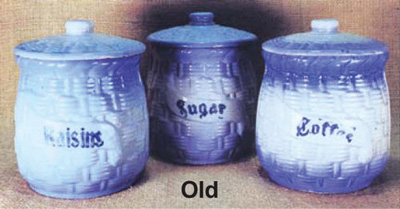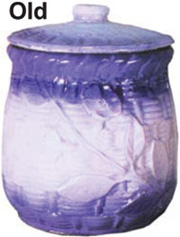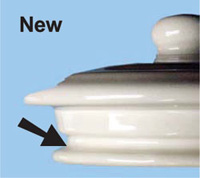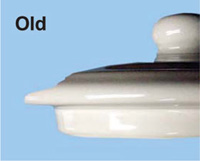 Real Or Repro is an industry resource powered by
a vetted marketplace of dealers and winner of numerous
Ecommerce Bytes Sellers Choice awards
for Quality, Usability, Customer Service, Communications and Most Recommended Selling Venue
---
So now,
Our Ruby Lane Shop Owners
invite You
to shop with them for the
Real Deal
on Ruby Lane ...