Black Forest Carvings Copied in Resin or PlasticBy
Mark Chervenka
Black Forest Carvings Copied in Resin and Plastic
Scarce and novel examples of original 19th century Black Forest carvings are being reproduced in resin, or plastic. These new pieces are made from molds taken directly from original. New castings have a very realistic three-dimensional wood grain finish. Even small chips and cracks have been captured in the molding. Color is also quite close to original carvings.
From three feet away, the example shown here looked virtually identical to an original. It was only when the piece was taken down from the wall and carefully examined did we discover it was plastic, not wood. The detail is really exceptional.
The great majority of 19th Black Forest carved wood originated in regions occupied by present-day Germany. Most were sold as tourist items.
Virtually all originals were made of several separate pieces. The new resin pieces are cast as one single continuous piece. Hooks in the original hunter rabbit, for example, were true horn from either deer or goat. The horns were inserted into holes carved into the wood and fastened with nails or screws. The entire new rabbit is cast as a single piece. Most originals have glass eyes set in carved sockets. Eyes in most new pieces are cast as part of the overall object although some new pieces do have separate plastic eyes.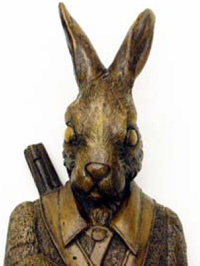 Real Or Repro is an industry resource powered by
a vetted marketplace of dealers and winner of numerous
Ecommerce Bytes Sellers Choice awards
for Quality, Usability, Customer Service, Communications and Most Recommended Selling Venue
---
So now,
Our Ruby Lane Shop Owners
invite You
to shop with them for the
Real Deal
on Ruby Lane ...