Be Very Careful with Jadite PitchersBy
Mark Chervenka
Be Very Careful with Jadite Pitchers
Be very careful if you're offered a Jadite ball-shaped pitcher. ACRN purchased a Jadite reproduction that is virtually an exact copy of Anchor Hocking's vintage Pillar Optic pitcher (see Figs. 1 & 2).
The new Jadite pitchers are being made in China. They arrive new with a removable paper label reading "Everyday Gibson–Vintage 900Z Tilted Pitcher, Jade. Dishwasher safe–Do not use in microwave." There is no permanent mark on the new pitchers. While many shapes of original Jadite have the Fire-King mark molded in the base, none of the original Jadite ball-shaped pitchers is marked so marks are not a reliable test of age.
New pitchers are very similar to originals with only a minimal difference in shape and pattern. The biggest difference is more numerous flaws in the new than the old. On our sample, the most noticeable flaw was a large pucker where the top end of the handle joins the body (Fig. 4). The next most obvious problem was a change in surface finish between the pitcher body and the cylindrical neck. The body has a shiny finish; the neck has a noticeably duller matte finish. There are also obvious swirls in the surface, numerous pits in the surface and very rough mold seams. New pitchers are also heavier due to a much thicker bottom.
Handles on all ball shaped pitchers, new and old, are unique in the way the handle is attached to the body. When the pitcher comes out of the mold, the lower end of the handle is standing out away from the pitcher body. The end of the handle is then bent while hot into the socket. The result is a finished piece with the end of the handle resting in the socket.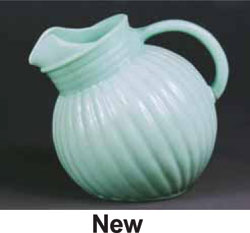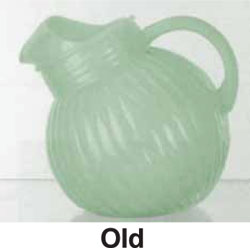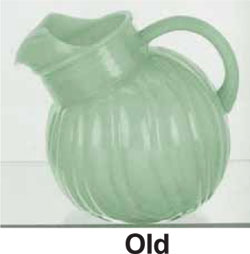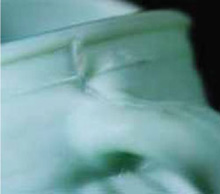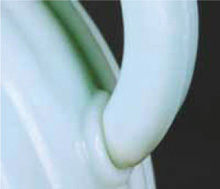 1. Photo courtesy Anchor Hockings Fire-King & More Identification and Value Guide, Gene Florence, ©1998, Collector Books. collectorbooks.com