Bauer Pottery Makes Red Ring WareBy
Mark Chervenka
Bauer Pottery Makes Red Ring Ware
The new Bauer Pottery released a set of kitchen pottery in Poppy Red, a color used on vintage Bauer sold in the 1930s.
The new five-piece set, shown here, is in the so-called "ring ware" pattern, a series of horizontal bands or rings, one of Bauer's original most sought after patterns. Included in the set were four bowls from 6 to 10 inches in diameter and a 9-inch vase or utensil holder. The set of four bowls was $169; the cylinder shape was $49.
The original company, J.A. Bauer Pottery, operated in Los Angeles, CA between 1910 and 1962. In June 1999, though, Janek Boniecki re-registered the Bauer Pottery name with the United States Trademark Office. New pottery has been made with variations of the Bauer name since then.
Almost all new Bauer marks are raised like the two examples shown here. Many new pieces include "2000" to separate the modern 21st century products from mid-20th century originals. If a seller describes an item as marked Bauer, be sure to ask for very accurate description of how the marks appears.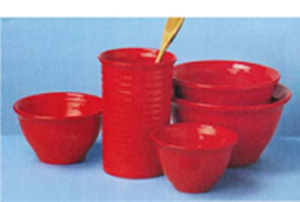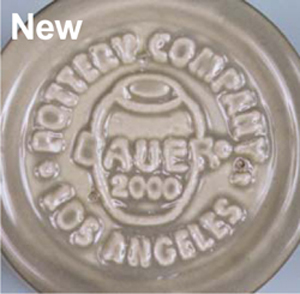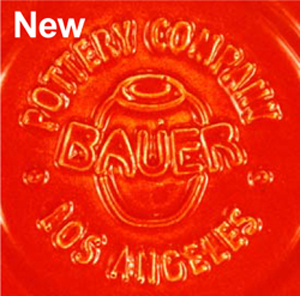 Real Or Repro is an industry resource powered by
a vetted marketplace of dealers and winner of numerous
Ecommerce Bytes Sellers Choice awards
for Quality, Usability, Customer Service, Communications and Most Recommended Selling Venue
---
So now,
Our Ruby Lane Shop Owners
invite You
to shop with them for the
Real Deal
on Ruby Lane ...
View More Similar Items