Art Glass Shades - Original or Copy?By
Mark Chevenka
Art Glass Shades - Original or Copy?
By the last quarter of the nineteenth century, most American cities were completing the conversion from gas and oil lighting to lighting powered by electricity. Rather than have a fairly large central oil lamp around which the family gathered, smaller electrical lights could now be placed throughout the house.
Glass makers responded to the huge demand for new electric lighting with a new, smaller type of shade. This new shade could be used singly in small lamps and holders or grouped together to build up large fixtures. The majority of these new shades designed for electric lighting were about 4″-6″ in length, 3″-6″ in diameter and had 2¼″ fitter rims.
Steuben, Quezal and other American glass houses quickly recognized this new market and adapted their production to meet the need. The high quality smaller art glass shades were made primarily between 1900 and the beginning of the depression in the late 1920s. In this article we'll discuss how to determine if a shade is an original or one of the many reproductions now in the market. When we use the term "art glass shade" in this article, it will refer to shades made primarily for electric lighting, ca. 1900-1930 with a 2¼″ fitter rim.
Background On Original Shades and Makers
Principle American makers of art glass shades with 2¼″ fitter rims were Steuben, Quezal, Tiffany, Lustre Art Glass, Fostoria and Durand. Of these makers, Quezal and Steuben made the largest numbers. Steuben's shape catalog of 1903-1932 of 7,700 total shapes, for example, included over 600 shapes and sizes of shades. In other words, about 8% of total Steuben designs were lighting products. The design percentage is very close to actual sales dollars. During the 1920s, shades generated, on average, 8%-12% of all art glass annual sales1. Shades were made in declining numbers until 1932 when all production of colored wares was stopped at Steuben.
Tiffany produced far fewer art glass shades than Steuben, Quezal and other makers. For one reason, Tiffany shades were virtually always sold with Tiffany bases or fixtures and the higher prices limited the number sold. Steuben, Quezal and others sold many shades through general lighting wholesalers; Tiffany tightly controlled distribution and did not. Tiffany begin making art glass shades about 1890 and quit by the mid-1920s.
Quezal Art Glass and Decorating Co. probably came close and maybe surpassed Steuben in total number of shades made. The firm was started in 1901 by Martin Bach and Thomas Johnson, two former Tiffany employees familiar with Tiffany's formulas and decorating techniques. Shades were by far the firm's largest seller and may have accounted for as much as 80%-90% of total production. The company operated until 1924. After the company failed, many formulas and several workers went to Victor Durand.
Victor Durand owned a large industrial glass works, Vineland Flint Glass Works, which made industrial products such as tubing, light bulbs and laboratory glass. In 1924, he hired former Quezal employee Martin Bach, Jr. to start Durand Art Glass. Bach's father was co-founder of Quezal and his son brought many of the formulas to Durand. Art wares were only made from 1924 to 1931. Most authentic Durand shades and lamp parts were custom made for New Jersey lamp manufacturers. Durand shades rarely fit standard fixtures because the fitter rims are non-standard sizes. Some Durand shades don't even have a fitter rim, but only a small bolt hole.
Lustre Art Glass Company made art glass shades from 1920 to 1923. The company was started by former Quezal workers Conrad Vahlsing and Paul Frank. Virtually the entire output of this company was shades and globes. Many Quezal designs and formulas were used at Lustre Art Glass and the two company's shades are often confused with each others.
Fostoria Glass Specialty Company was founded in 1899 in Fostoria, Ohio. The company began by specializing in industrial lighting components such as chimneys, globes and bulbs. It began making high quality art glass shades around 1910. Many Fostoria shades had two and three layers of glass. Designs and decorations are similar to Art Nouveau themes used by Tiffany and Steuben. By 1917, General Electric had purchased the company and discontinued art wares to concentrate on industrial products.
Other than sharing a common word in their company names, Fostoria Glass Specialty Co. has no relationship to the better known Fostoria Glass Company of Moundsville, West Virginia which produced mostly pressed glass, ca. 1887 to the mid-1980s.
Signatures and marks are the least reliable test of art glass shades age and authenticity. The best test for all art glass shades regardless of maker, is to study the details of construction. Generally, originals by any of the vintage makers are far superior to modern reproductions in the market today. Examples of glass quality, finishing, and marks are presented in the accompanying close up photos and described in the captions.
Keep in mind that the examples and text of this article cover only art glass shades with 2¼″ fitter rims produced for electric lighting 1900-1932. Although some guidelines apply to other shades, many others do not apply.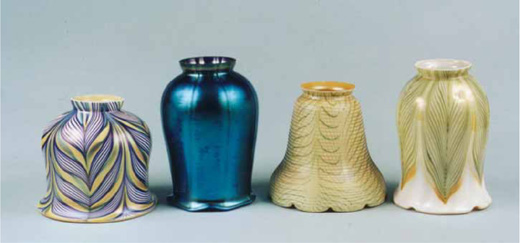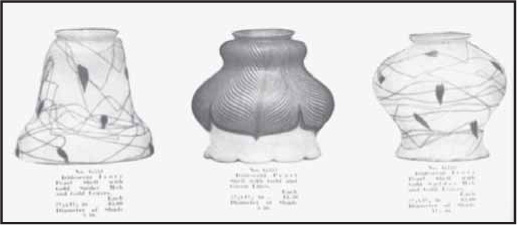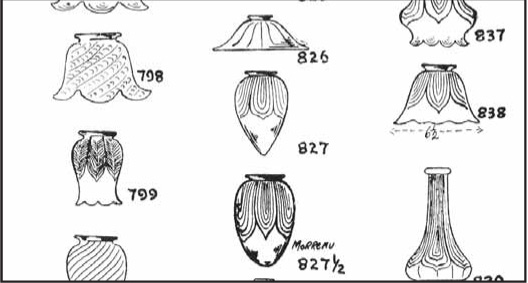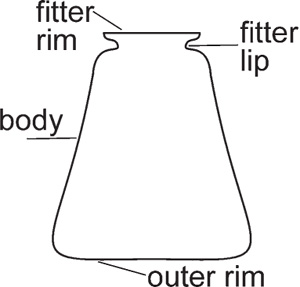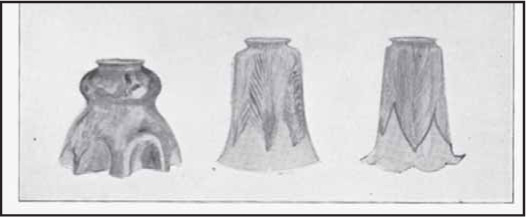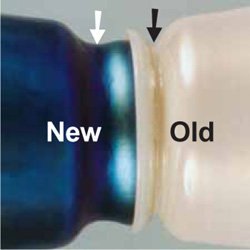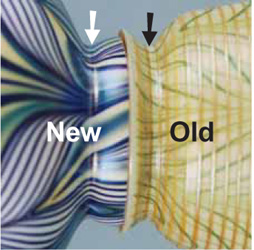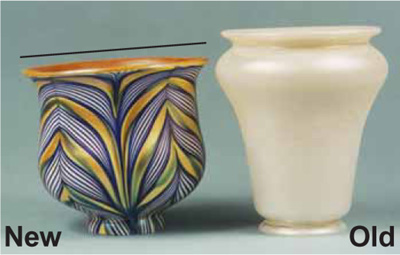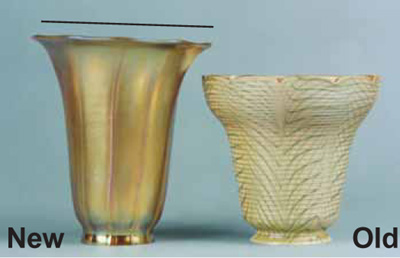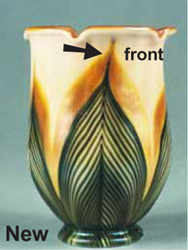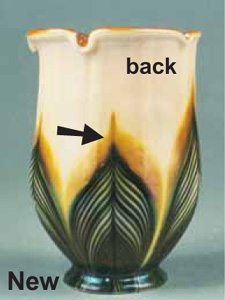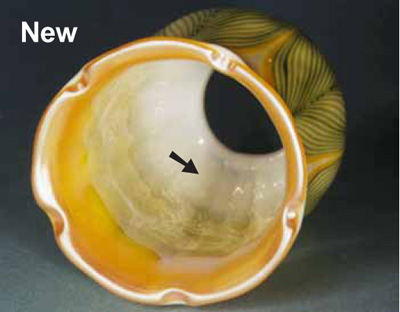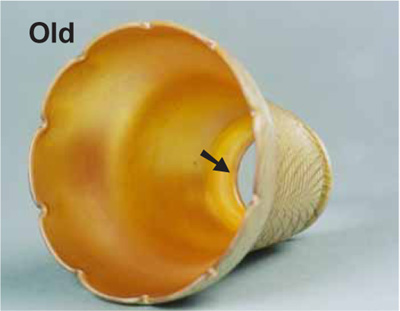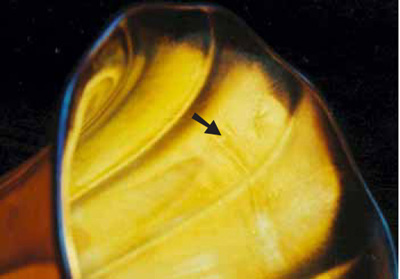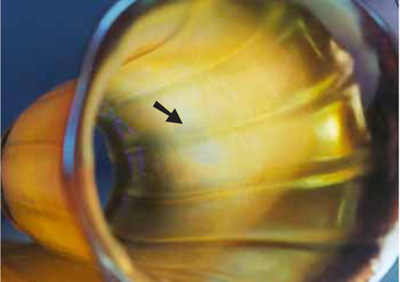 Marks on typical vintage shades
Never use marks as your only test of age or value. Glass quality, details of design and how skillfully the shade was made are a much better method to determine age and authenticity. However, a knowledge of what marks should appear on which makers' shades is useful to detect a seller's intent to deliberately misrepresent an item. Keep in mind that many forged marks appear on genuinely old but originally unmarked shades, not only recently made shades.
QUEZAL The great majority of Quezal shades were marked. Virtually all marks were engraved with a wheel. Quezal wheel engraved marks have a distinctive pattern in the letters of tightly grouped, uniformly spaced, parallel horizontal lines (Figs. 20-21). Most genuine marks appear on the inside of the fitter rim. Many genuine Quezal marks engraved on white glass were rubbed with either black or silver producing black or silver horizontal lines in the mark. Original marks vary in size. Any piece marked Quezal with matte acid, a ball-shaped rotary bit or diamond tip stylus is almost certain to be a forgery.
STEUBEN Not all original Steuben pre-1930 art glass shades were marked. The standard mark on most genuine Steuben shades that were marked is a silver colored version of the fleur-de-lis trademark (Fig. 24) Original marks are about three-eights in height and about one-half inch in width. Authentic marks are placed on the inside of the fitter rim. The fleur-de-lis usually, but not always, pointed to the top of the fitter rim.
The genuine silver mark is rarely 100% intact and commonly found as little more than a smudge (Figs. 22-23) Genuine silver marks without much wear are usually quite pebbly in texture. An acid cutback Steuben raised glass fleur-de-lis mark does exist on vases but is virtually never found on Steuben shades with 2¼″ fitter rims. Any shades offered as pre-1930 Steuben marked with matte acid, a ball-shaped rotary bit or diamond tip stylus is almost certainly misrepresented.
During the 1970s a forged silver-colored mark was made with ordinary silver paint applied with a rubber stamp. The forged silver marks usually appear as a solid mass of color with virtually no legible lettering. Forged silver marks are easily scraped off with a fingernail. Original silver marks are quite strong and resistant to wear. Even with the original silver completely gone, there is almost always a shadow in the area where the original mark was applied (Fig. 23)
TIFFANY Tiffany marked far fewer art glass shades with 2¼″ fitter rims than Steuben, Luster Art or Quezal. Of the genuine shades that are marked, genuine marks vary widely. Genuine marks appear on both inside and outside of fitter rims. Authentic Tiffany marks are always engraved, never acid stamped. Marks were engraved with a variety of tools including a diamond tipped stylus, wheel and ball-shaped rotary bit. Three of the most common Tiffany marks are shown in Fig. 25
LUSTER ART The great majority of art glass shades by Luster Art are marked. All original Lustre Art marks are hand engraved in script with a wheel or ball-shaped rotary bit. Genuine marks virtually always appear on the inside of the fitter rim. Mark size varies but it is always well proportioned and skillfully applied. Any Lustre Art marks made with matte acid or diamond stylus are most likely forgeries.
In the 1970s, an acid stamped mark with the words "Lustre Art Co." begin appearing in the type style shown in Fig. 27 The acid stamped forgery is 1¼″ long.
DURAND Durand's vases and other art wares were frequently marked but lamp shades and glass lamp parts were never marked. The vast majority of lamp shades and glass lamp parts produced by Durand were made to order for lamp manufacturers and generally not sold under the Durand name. Any shade or lamp part marked Durand should be viewed with suspicion.
FOSTORIA No permanent mark has ever been documented on an original Fostoria shade. The only known original mark on Fostoria's art glass shades is an oval paper label (Fig. 28) Only a few authentic labels have survived. The great majority of Fostoria's shades were wholesaled to lamp manufacturers. A molded Iris mark (Fig. 29) was used on a line of industrial pressed glass. Both of the marks shown have been reported in forged matte acid marks; forged paper labels have also been reproduced on laser printers with desktop computers.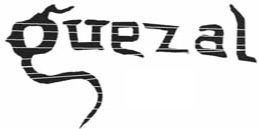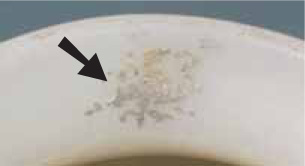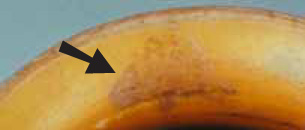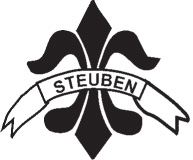 1. Analysis of Steuben artware sales by category, Blaszczyk, Regina. Ph.D Dissertation, Unv. Delaware, 1995.
Real Or Repro is an industry resource powered by
a vetted marketplace of dealers and winner of numerous
Ecommerce Bytes Sellers Choice awards
for Quality, Usability, Customer Service, Communications and Most Recommended Selling Venue
---
So now,
Our Ruby Lane Shop Owners
invite You
to shop with them for the
Real Deal
on Ruby Lane ...
View More Similar Items