Art Deco Lamps and LightingBy
Mark Chervenka
Art Deco Lamps
>
and Lighting
Lamps and lighting in the Art Deco style have been popular for many years. Streamlined designs of nudes, animals and geometric motifs are pleasing in themselves as well as blending in well with most interior decorating. This article will cover several groups of reproduction art Deco lamps and lighting available in large numbers in malls, shows and auctions.
Singles and Groups
Some of the lamps are one-of-a-kind singles and don't have any convenient rules of identification. The airplane lamp in (Fig. 1), for example, doesn't possess any construction techniques that give away its recent manufacture. The only practical way to distinguish it from an original is side by side comparison.
The edges on new wings are perfectly flat with no forming to give a sense of thickness. Edges of original wings are rounded over like the wings on an actual plane. (see Figs. 5 & 6 ). Propellers spin on both new and old. If you take the lamp completely apart, you'll also find ″©1978″ molded into the bottom of the glass body if it has not been ground off. Details on original glass planes, such as the molded stripes, are finished in silver. The new glass bodies have no decoration at all (see Figs. 3-4). Original glass body and chrome desk lights sold for $400-$800 and up. The reproduction cost around $85.
Fortunately, many reproductions of Art Deco lamps and lighting fall into "groups" according to manufacturer. Such pieces can usually be identified as new by certain features or lamp parts used in most of the group. One such group is shown below. For discussion, we will refer to this group of new lights as the "Chrome Group (CG)."
The basic lamp parts in the CG group are: 1.) winged horse head, 2.) DC-3 style airplane, 3.) a frosted glass base with vertical panels, 4.) the planet Saturn and 5.) two chrome nudes- one with arms raised, the other with hands clasped at waist. The airplane, horse head, nudes and Saturn are pot metal with a thick chrome plating. Lamps in this group come with a variety of new glass shades which are always in a frosted finish and usually clear, blue, or pale green in color.
The airplane is the most interesting of these lamp parts. They are mounted with swivels and can be moved into any position and the propellers turn. Lights inside the airplane and glass base can be lighted separately or together with a three way switch.
Many different lamp combinations are possible using these basic parts. The smoking stand shown in (Fig. 10) on the opposite page, for example, combines three different pieces from the group: airplane at top, frosted glass base for the bottom and the horse heads at each corner of the base. Samples of the other possible combinations are also shown. Remembering the basic figures of this group can help you avoid new lamps made from these parts. Also be alert for the new pieces mixed in with genuinely old lamp parts.
Although new, these reproductions are not cheap. Wholesale price of smoking stand in (Fig. 10), has been known to go for around $450; lamps in (Figs. 7 & 8), have sold for $310 each; airplane lamp in (Fig. 9), has sold for $155.
New shades from Consolidated Glass Co. Molds
A lamp company in Portland, Oregon had some original Consolidated Glass Co. Art Deco shade molds back into production. There were five different molds being used now which are shown in Figs. 15-19 along with the shades' dimensions. At this time all known production was in white glass with a shiny finish and made with only 6″ fitter rims. New shades are, for all practical purposes, identical to originals. The new shades will undoubtedly find their way into the antiques and collectibles market.
Synthetic Materials
Although original Art Deco lamps were made of natural materials such as metal, glass and pottery, that hasn't stopped reproductions from being made in black plastic. The plastic lamps in Figs. 8-9 are frequently represented as "Bakelite" which they are not.
The lamps are made with a matte black finish which is easily painted over with correct period colors like ivory or green. All the lamps are hollow when new but may be filled later to give them added weight. If felt or other coverings hide the opening in the base, the fill material may not be obvious. A small area of all coverings should be lifted from the base on all lamps as a matter of routine.
Summary
Most authentic Art Deco figural lights made ca. 1918-1940 by such manufacturers such as Nuart and Frankart are painted, not chrome plated. Although many original pieces of Art Deco are chrome plated, the majority of figural lamps and figural lamp parts were not.
Most inexpensive original Art Deco era figural lamps produced for the general public were cast pot metal. Most surfaces were then painted although some have finishes which duplicate other metals such as bronze. As far as is known, no authentic human figural lamps in the Art Deco style were ever made in any material that resembles bakelite (plastic). Any lamp made of synthetic materials such as plastic, fiber glass or other similar composition should be viewed as highly suspect.
Any large Art Deco figural glass lamps should be suspect. By large we mean lamps with shades 10″ or more in diameter or bases 10″ or more in height. As a general rule, the only original figural Art Deco lamps with glass bases are the smaller accent or boudoir lamps such as the Saturn shapes, dancers, etc.
Get in the habit of examining every piece that forms a lamp or fixture. New shades and metal parts are easily interchangeable with old originals. Many new parts and pieces can be combined into shapes not shown here. Ask the seller to guarantee the lamp in writing on the receipt noting any legitimate repairs or restorations.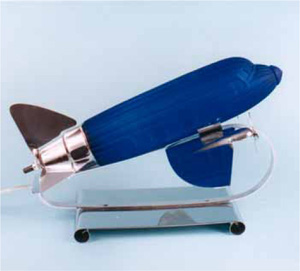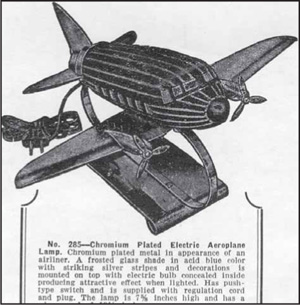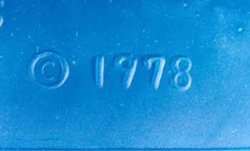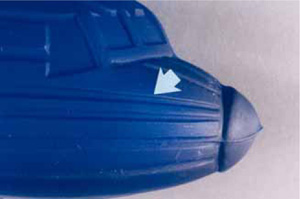 Cross Section of Wings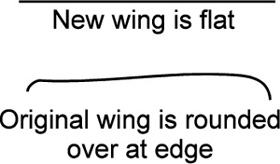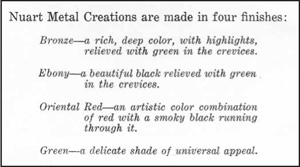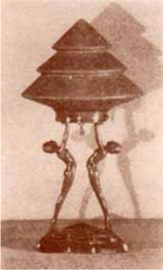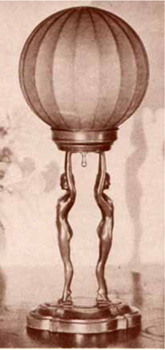 New ″Chrome Group″
Lamps in this group can be identified by the shapes illustrated below. Be alert for these parts in various combinations. They could also appear in complete lamps made with a mixture of new parts and genuinely old parts.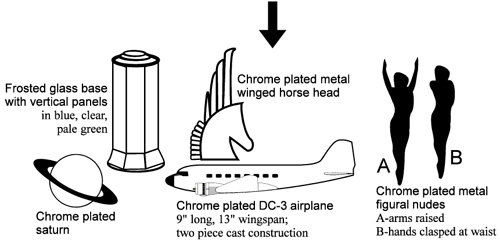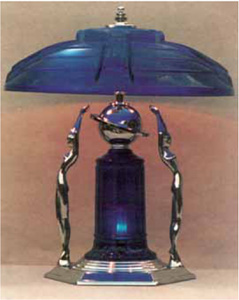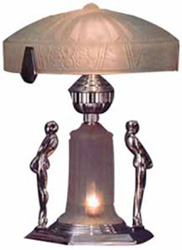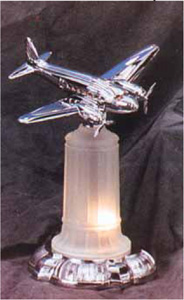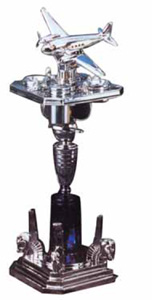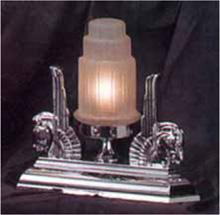 New Art Deco Shades from Original Consolidated Lamp & Glass Co. Molds
A Portland, Oregon lamp company, Rejuvenation Lamp and Fixture sold Art Deco styled light shades made in original Consolidated Glass Co. molds. The molds were purchased from Sinclair Glass Co. in about 1990. Production was by Lynch Glass Co. of West Virginia. All known production at this time was in shiny white glass with 6″ fitter rims. Prices have run from around $28 to $75 (not including hardware). New shades are virtually identical to old.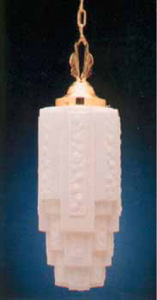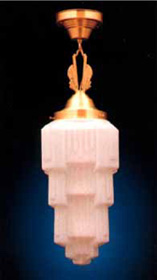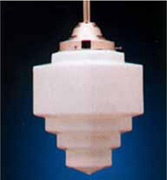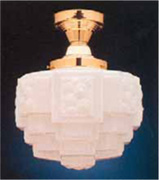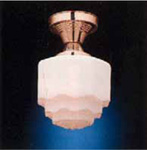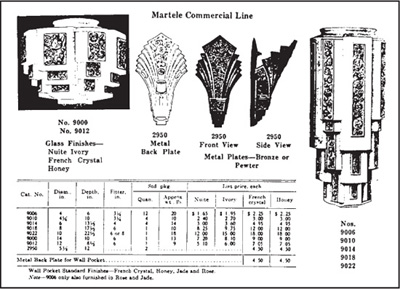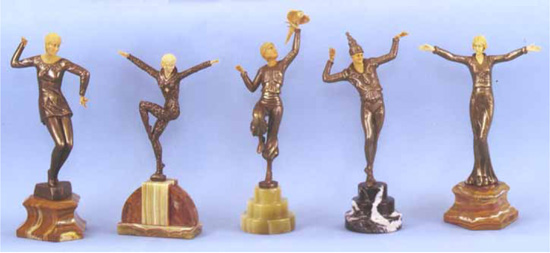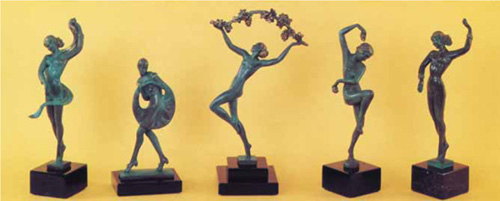 Real Or Repro is an industry resource powered by
a vetted marketplace of dealers and winner of numerous
Ecommerce Bytes Sellers Choice awards
for Quality, Usability, Customer Service, Communications and Most Recommended Selling Venue
---
So now,
Our Ruby Lane Shop Owners
invite You
to shop with them for the
Real Deal
on Ruby Lane ...
View More Similar Items