Anglo-American Historical TransferwareBy
David & Linda Arman
Anglo-American Historical Transferware
The collector of historical transferware, made 1760-1860, is really quite fortunate that there are very few true fakes on the market. Although the ware has been popular for over a century, there have not been many attempts to recreate ceramic items in this field. True, there are a few pesky items that show up occasionally but the authors hope to place a final fatal stake in the heart of these pieces with specific details on how beginning buyers can avoid them.
Common Problem Pieces
The first group of modern items we'll discuss appear in Fig. 1 above. While it is uncertain whether these items were originally manufactured with the intent to deceive, they are currently doing so on a frequent basis. These turn up in auctions from Park Avenue in New York to cornfields in Iowa.
When examining these pieces always remember the most important feature is the crackling of the glaze. Authentic pieces are pearlware1 and have a very fine network of glaze crackle (crazing). The reproductions have a network of very coarse crazing (Figs. 2-4). The authentic pieces are only found in a Staffordshire pitcher form, and childrens' mugs which come with either a blue or black transfer. The reproductions are recorded in only a black transfer. New shapes include both Staffordshire and Liverpool2 pitchers, bowls, cups, saucers and plaques. The portrait transfers shown in Fig. 1 are Fayette The Nation's Guest and Washington His Country's Father .
It was only recently that we were able to determine the source of many confusing pieces including the group shown in Fig. 1. While reading Collecting Lustreware by Godden and Gibson3, we came across a section on twentieth century manufacturers. Detailed there was the firm of A.E. Gray and Company which operated in Hanley from 1913 through 1934, when they moved production to Stoke-on-Trent. This company apparently continued production until the 1960s using a variety of transfers on a number of different shapes. They produced goods with a white background (Fig. 1) as well as an imitation Sunderland4 Splash "lustre" which is discussed in detail later in this article.
The next confusing piece one might encounter is the Ship Caroline Liverpool pitcher (Figs. 5-7). This piece has black transfers of a sailing ship, Ship Caroline on one side, a guild insignia The Shipwrights Arms on the other and under the spout the Seal of the United States above the printed name, James Leech. The Seal of the United States transfer is found with and without the slogan Republicans Are Not Always Ungrateful.
We have NEVER seen a Liverpool pitcher with a transfer of the Ship Caroline that was authentic. Never. All evidence points to Gray's pottery as the source. It is made of a heavy white earthenware which has the telltale coarse crackling of the glaze. Don't be fooled by this piece. It has no value to the collectors of authentic Anglo-American Historical Transferware.
We must admit that we have seen a finely potted pearlware tankard with a black transfer of the Seal of the United States over the name James Leech that might be authentic. This example may be Gray's source for the same name on his reproductions. However, that tankard and it's origins are still the subject of some research and much conjecture.
The next reproduction we will discuss is a Liverpool pitcher produced in the early twentieth century. Shown below, this has Success to the Volunteers on one side and a Napoleon cartoon titled The Governor of Europe Stopped in His Career on the other side. The reproduction pitchers have red transfers, are somewhat heavier in weight than originals and have a very coarse graze crackle (Fig. 8 below). Originals were produced by several different potteries following England's declaration of war against France in 1803. Authentic pieces are found with red or black transfers on creamware tankards and pitchers.
There are also reproduction Liverpool pitchers in pseudo or false Sunderland Splash Lustre3. Two different pitchers in this style our shown. These pitchers are attributed to Gray and Company from the transfers which appear on them. Like the other reproductions, these pieces can be identified by the wide spaces between the lines of crazing and heavy white earthenware body. The transfer work on these pieces is also of very poor quality. While these pieces have little or no value as antiques, a collectors might wish to include them in a collection to illustrate a fake.
Gray also produced bowls in their Sunderland Splash Lustre. The fake bowl which assisted us in the attribution of these pieces to Gray and Company is shown in Figs. 12-13. Around the sides are black transfers of Washington His Country's Father, Fayette The Nations'
Guest and Benjamin Franklin L.L.D.F.R.S. Born at Boston New England 17 Jan 1708 and the Seal of the Unites States-Republicans are not Always Ungrateful-Ric° Hall & Sons. Inside is a black transfer of The Shipwrights Arms.
The transfers of Washington and Fayette are poor quality with coarse shadings in the faces (also see Figs.14-16). Franklin's transfer is of rather good quality but we have not recorded an authentic period transfer similar to this. The Republicans are Not Always Ungrateful transfer was copied from the Richard Hall and Sons original produced in 1824.
Gray also produced some heavy white wall plaques. These have two large holes for hanging at the top. Transfers on the plaques include Fayette The Nation's Guest, Washington His Country's Father and the portrait bust of Benjamin Franklin.
Quality of reproduction transfers varies considerably. Gray's copy of the Republicans, etc. is very good. There are a few minor differences between it and the original but not so much as to make identification of a reproduction easy by looking at the transfer alone. Reproduction portrait transfers also vary in quality. Gray's transfer of Washington in Fig. 14, for example, is much better than the similar Gray's Washington transfer in Fig. 15. Both portraits have simple dots for eyes but Fig. 15 has coarse shadows over the face. The original in Fig. 16 shows more lifelike oval eyes and a more detailed border surrounding the portrait.
Reproductions you find in museum gift shops or used in commercial advertising (like Cutty Sark Liquor) should not cause any problems for collectors. All are fully identified with underglaze marks indicating the manufacturer and country of origin. The transfers are of good quality and the glazes are clear and uncrackled. One note of caution however. Sometimes a grinder is used to remove underglaze marks with the intent to defraud the uninformed collector5.
This article was excerpted from a chapter on fakes and reproductions in David and Linda's new book Anglo-American Ceramics Part I, the first in a three volume series. 280p. hardcover; 850 illustrations; rarity scale with values; sources for many transfers.
Editor's notes
1. Pearlware is a white bodied earthenware developed about 1780. It was stronger and whiter than creamware. To increase the whiteness, a small amount of cobalt was added to the glaze which often produced a slight blue or green/blue cast from which the generic name "pearlware" arose. This ware was used extensively for transfer printing.
Creamware is glazed earthenware with an off-white "cream" color sometimes with a tan or yellow cast. Widely used for inexpensive transfer printing especially by Liverpool potters.
2. Liverpool, England was a leading producer of 18th-19th century creamware pottery printed with transfers for the American market. The pitchers (also called jugs) shown in Figs. 5 and 10, for example, are Liverpool pitchers. This is to distinguish their more slender bodies from the more rounded bulbous bodied Staffordshire shaped pitchers like that in Fig. 1.
3. Godden, G. & Gibson, M., Collecting Lustrewares, 1991, Barrie & Jenkins. London.
4. Sunderland is a generic name for a pink glaze on English pottery. Splash is a speckled or mottled glaze as if drops of the liquid glaze were "splashed" on the piece. Lustre denotes a metallic, sometimes iridescent finish.
5. A black light can often be helpful in detecting disturbances of the original surface.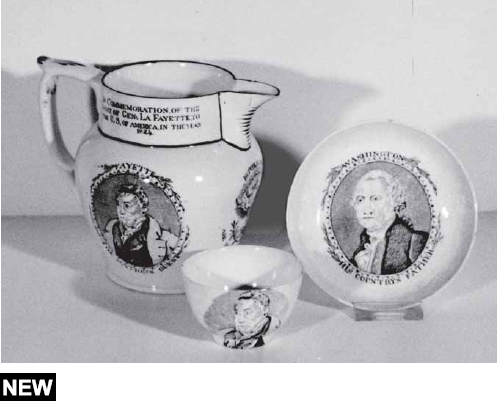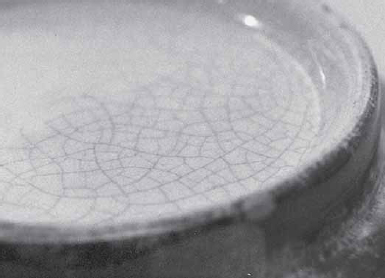 Crazing Lines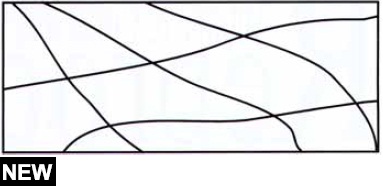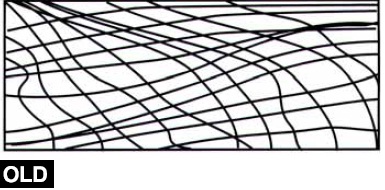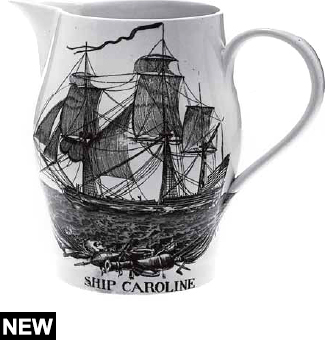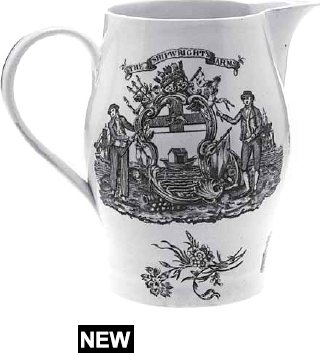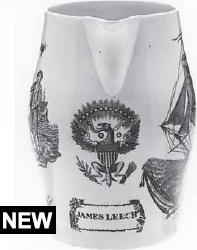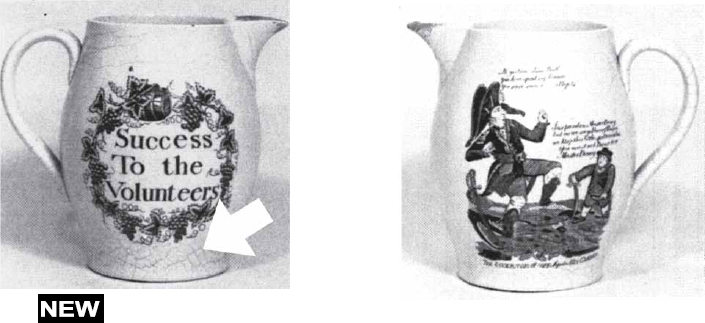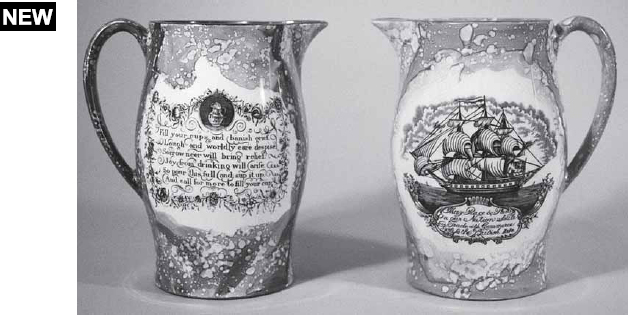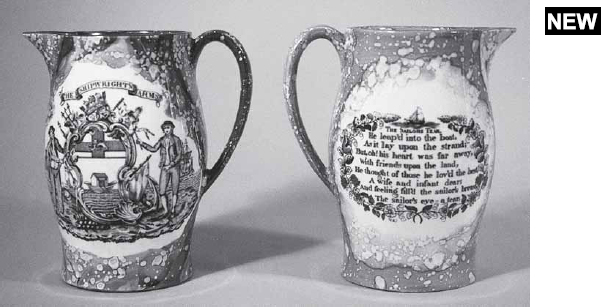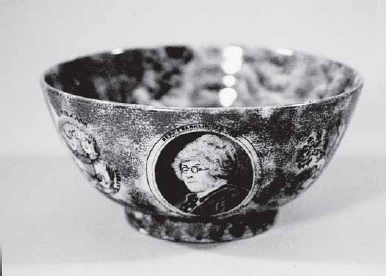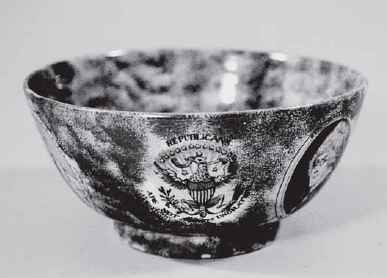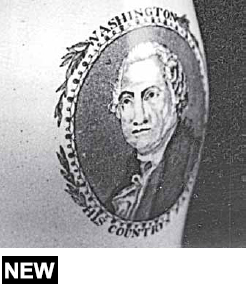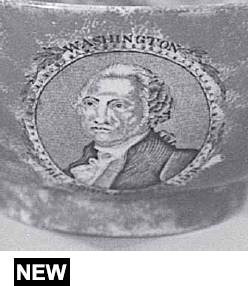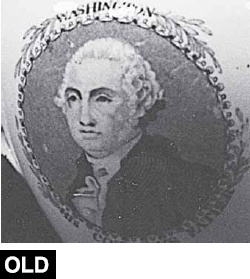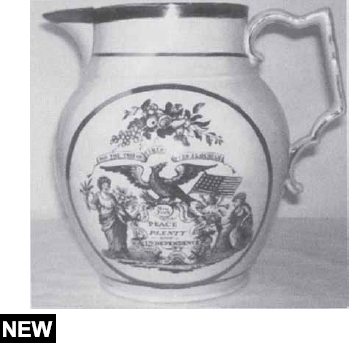 Real Or Repro is an industry resource powered by
a vetted marketplace of dealers and winner of numerous
Ecommerce Bytes Sellers Choice awards
for Quality, Usability, Customer Service, Communications and Most Recommended Selling Venue
---
So now,
Our Ruby Lane Shop Owners
invite You
to shop with them for the
Real Deal
on Ruby Lane ...
View More Similar Items