Angle Lamp GlassBy
J. W. Courter
Angle Lamp Glass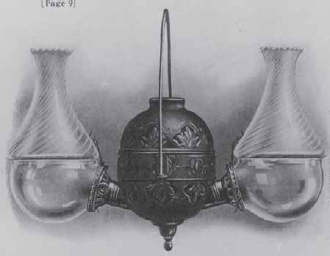 Angle Lamp glass parts have been available for years for repair and restoration. But you shouldn't pay the price of an original for a new or not very old part. We will try to sort out, date and identify these glass parts in this article.
The Angle Lamp Company (ALC), known later as the Angle Manufacturing Company, was in business from 1892 to 1929 in New York City. Its oil lamps were unique in having the burner on the side at nearly a 90 degree angle to the body of the lamp.
This design required two uniquely shaped glass parts: an elbow globe which diffused the light below and a triangular chimney above the elbow (Fig. 1). Many of these glass pieces are of decorated or colored glass and make Angle Lamps highly desirable, valuable and collectible. In fact many original glass parts are often more expensive than the lamp itself.
The original glass was probably made by E.P. Gleason, followed by the Gleason-Tiebout Glass Company, in Brooklyn, New York. In 1952 the latter became the Rodefer-Gleason Glass Company and the molds were shipped to their Bellaire, Ohio location. They provided replacement glass for shops specializing in antique lamps until 1983 when they went out of business. At that time an auction was held and the original molds were purchased by Source Products where they continue to be in production today.
In other words, Angle Lamp glass parts were made in original molds through the 1940s and very probably until 1983. Mail order companies like Sears Roebuck and Montgomery Wards sold Angle Lamp parts, including the glass pieces, long after the original lamp company went out of business. The exact age of some glass lamp parts may be difficult to determine but the general guidelines below should help you from making a major mistake.
ELBOW GLOBES Although common clear glass elbow globes have been made in original molds for many years, there are still several clues which help date them. Many new globes made in recent years, for example, have a set screw notch only at the bottom of the burner neck. (see Fig. 1 for notch location). The glass in the newer also tends to be greenish along the edges of the chimney opening. Embossed lettering around the chimney opening is often faint and indistinct (see Fig. 2, B for location). These three signs together --greenish edges, bottom notch only and weak lettering--all point to recent production.
Keep in mind, though, that any one factor is not sufficient for dating. Notch position alone, for example, is not a reliable means of dating. It is just one of the indications that must be considered with the other factors.
One other name you may find embossed along the edge of the chimney opening is "American Lamp Supply Co." American Lamp is a present day business, not an old business, which specializes in lamp replacement parts. In addition to embossing their name around the outside of the chimney opening, their name also appears on the inside of elbows with a fired on decal (Fig. 3).
You should also look for lettering around the burner neck (Fig. 2, A). All elbow globes with embossed lettering or dates around the burner neck were made before 1929. No research shows these to have been reproduced.
Other than the "Birds" design, none of the other elbows with fancy etching or embossing globes have been reproduced (Fig. 4). Elbows frosted all-over on the outside were made after 1929.
CHIMNEY TOPS
Opal White (smooth surface) As far as we know, all white opal glass petal top chimney tops are old (see Figs. 5-7 below). This style was made by hand from the late 1890s until the early 1920s. There is one current reproduction that has a crimp top and is permanently marked with a fired on decal.
Opal White (ribbed surface) The original white rib chimney top was made from 1922-1929 (see Fig. 8), but the molds were used for many more years. Later chimneys are usually thick and heavy; originals are thinner and lighter in weight.
One company is using a rib mold today to make colored and opalescent chimneys. These are obviously fantasy pieces because original ribbed shades were made in white only.
Colored glass (art glass)
There are several clues to help you identify new art glass chimney tops. Is the top rim of the chimney fire polished or ground? Tops on old chimneys are fire polished; a number of new chimneys have ground off tops. Is the color throughout the glass or only "flashed" on? Color in old chimneys is continuous throughout the glass; some of the reproductions have color applied or flashed to the inside of the chimney only. Is the top of the chimney petal-shaped or crimped? Old colored, or art glass, chimneys should generally have petal shaped tops like the opal white glass. Most new art glass shades have crimped tops.
One exception to the guides on colored glass is Fenton's line of replacement parts. Their new chimney tops do have solid color throughout the glass body. However, Fenton is permanently marking their chimneys which have a crimped top not the old petal top.