American Flag Bread PlatterBy
Mark Chervenka
American Flag Bread Platter
The original American Flag bread platter is thought to have been designed for America's Centennial Exhibition of 1876. It is made in clear pressed glass and measures 11 × 8". There are seven rows of stars and six rows of solid stripes which represent the 13 original colonies. The cluster of 38 stars in the upper left represents the 38 states belonging to the Union at the time the platter was made in 1876.
Reproductions of this tray begin appearing in the mid-1970s as America began preparing for the Bi-Centennial in 1976. The new trays were made and sold in clear and red and possibly in amber.
To catch the fakes, just count the rows of stars and look at the color. If there are more than 13 rows of stars and stripes, it's a fake. If the glass is colored, it's automatically a fake since all originals are clear.
Otherwise, old and new platters have the same size, same border and are about the same weight.
For further reading see: Lindsay, B. American Historical Glass, Tuttle, 1967.
Marsh, T. American Story Recorded in Glass, published by the author, 1962.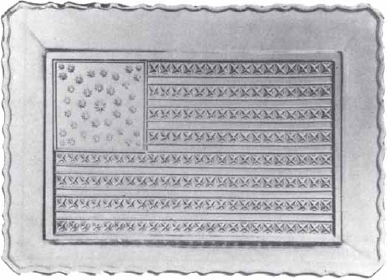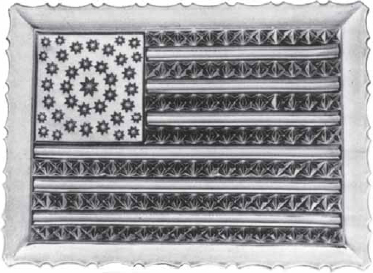 Real Or Repro is an industry resource powered by
a vetted marketplace of dealers and winner of numerous
Ecommerce Bytes Sellers Choice awards
for Quality, Usability, Customer Service, Communications and Most Recommended Selling Venue
---
So now,
Our Ruby Lane Shop Owners
invite You
to shop with them for the
Real Deal
on Ruby Lane ...
View More Similar Items