All 1933 Worlds Fair Mickey Mouse Knives are FakeBy
Mark Chervenka
All 1933 Worlds Fair Mickey Mouse Knives are Fakes
There's an old saying that if you repeat a lie often enough, people will eventually believe it. That applies not only to words but also to reproductions of antiques and collectibles.
Take the case of the Mickey Mouse 1933 Worlds Fair pocket knife.
A collector once wrote to ACRN to report this knife was being reproduced. He owned an original for which he paid $115. He wanted to let us know he found a reproduction in a nearby antique mall for only $8.
The collector's knife (Fig. 1) is 3½″ with a single blade stamped "USA". Mickey is printed in red and black on one side of a cream or off white colored plastic grip. Also imprinted on the grip are the words "World Fair Chicago 1933." The blade is slightly rusted and the other exposed metal slightly tarnished. Grips are fastened by three rivets. We'll name this style Knife A.
The knife from the mall (Fig. 4) is 3¼″ and has two blades. "Taylor Cutlery" is stamped on the base of the larger blade; the smaller blade is stamped "China". Mickey is printed in black; "World Fair Chicago 1933" is in red on a pale cream or ivory colored plastic grip. The grips extend the full length of the knife with no exposed metal and no visible rivets. We'll call this version, Knife B.
So which is the authentic original?
Since ACRN could not find either knife in reference books on Disney items, World Fair collectibles or pocket knives, we contacted two experts for help.
Our first call was to David Smith, Archive Director of Walt Disney Archives, Burbank, California. ACRN (Antiques Collectibles Repro News) asked Smith which knife was original.
"No Disney characters appeared on any 1933 World Fair items", said Smith. "A pocket knife or any other item with Mickey Mouse and a 1933 World Fair imprint cannot be original Disney merchandise." Smith said the knives were "fantasy" items, a term used for new merchandise without any old counterpart.
Smith said the only authentic Mickey Mouse knife the Archives was aware of was made in the late 1930s by Imperial Knife. He suggested we contact another Disney expert, Tom Tumbusch.
Tumbusch is the author of the three volume Tomart's Illustrated Disneyana Catalog and Price Guide and editor of Tomart's Disneyana Update a bimonthly magazine. ACRN spoke with Tumbusch in his Dayton, Ohio office.
"The only official pocket knives from the 1930s with Mickey Mouse were made by Imperial Knife Company of Providence, Rhode Island," said Tumbusch. "All these World Fair knives with Mickey are fakes."
"Imperial wasn't licensed to make the original Mickey knives until 1936 and ended production in 1938. The only other Disney knives made by them featured Davy Crockett and were made from 1955-59," added Tumbusch.
According to Tumbusch, the A-style fake 1933 World Fair Mickey knife first appeared about 25-30 years ago. "I saw the first fake World Fair Mickey knife in about 1970," said Tumbusch. "At that time, somebody in Washington Courthouse, Ohio was adding the printing to American-made knives. Price was $1 each or $10 a dozen. Apparently this 1970s fake was mistaken for an "original" and used as a pattern for this latest generation of fakes (B-style) made in China."
Tumbusch provided ACRN with images of the original 1930s Disney knives as seen in the 1936-37 Herman "Kay" Kamen Disney catalog (Figs. 5-7).
"From 1932 to 1948, all Disney licensing went through Kamen," said Tumbusch. "Kamen arranged licenses with individual manufacturers then assembled all the licensed products in one catalog. The big buyers–like department stores, chain stores and premium promoters–could then see and compare all the official Disney products in one book."
The first Kamen catalog was issued in 1934 with others to follow in 1935, 1936-37, 1938-39, 1940-41, 1947-48 and 1949-50. After Kamen's death in a plane crash in 1949, licensing returned to Disney central control and large catalogs were no longer issued.
While researching the 1933 fakes, ACRN also ran across two other similar fakes. Fig. 8 is sold as a souvenir of opening day of Disneyland. It is 3¼″ with black printing on white plastic grips. It features Mickey and the imprint, "Welcome to Disneyland, July 17, 1955." No original like this was ever made.
The other new knife is a variation on the 1933 Fair theme. In this knife (Fig. 9). "Drink Coca-Cola in bottles, 5¢, World Fair Chicago 1933" is printed in red on white plastic grips. This knife is also a fantasy item. Both Figs. 8 and 9 are 3¼″ long with attached key ring.
All styles of fake knives shown in this article– both Mickey styles, the Disneyland and Coca-Cola–are widely available throughout the market, especially through on-line auctions. The styles were available in a variety of colors of grips and inks.
The vast majority of listings were offered with words suggesting age and scarcity such as "highly collectible" or "hard to find". Of all the listings we read over a two week period, only one seller plainly stated his A-style knives were of current manufacture. One of the more creative sellers was offering his A-style knives as "made in 1983 for the 50th Anniversary of the 1933 World Fair."
Prices covered a broad range. The seller who stated his knives were new was selling them for $2.50 each. Sellers offering their pieces as originals were getting $25-$50. Searches for similar items in completed auctions found prices up to $100 with some pieces reportedly bringing $175.
The most confusing style seemed to be the World Fair Mickey with the three rivets and USA on the blade. With 20-30 years of normal wear it now has, it has fooled some fairly advanced collectors and dealers into paying $100-$200.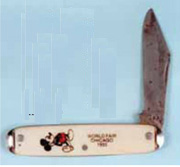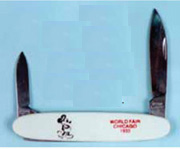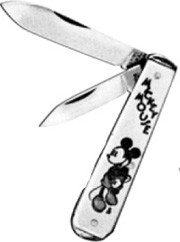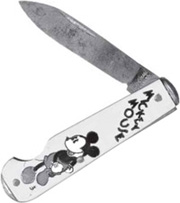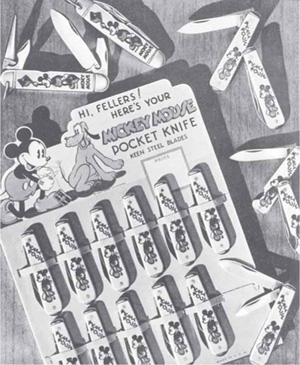 Dating Mickey Mouse images
As a general rule, earlier images of Mickey Mouse are more mouse-like; later images have Mickey looking almost human. In 1928, for example, Mickey had a long pointed nose and did not wear shoes. By 1940, Mickey was wearing not only shoes but gloves and now had a face almost like a human boy. Eyes and lines around the eyes are also a good clue to age. (see examples below).
Virtually every officially licensed Disney product has a copyright notice. Licensed products up to 1939 read Walt Disney Enterprises (Enterprises is sometimes abbreviated "Ent.") After 1939, the copyright notice reads Walt Disney Productions or WDP.
Keep in mind, however, that both image guidelines and copyright notices are general rules. Many modern Mickey items, for example, have the 1930s pie-eyes to create a nostalgic look.
The most detailed reference on all types of Disneyana is Tomart's Illustrated Disneyana Catalog and Price guide, a three volume set by Tom Tumbusch, © 1985, now out of print.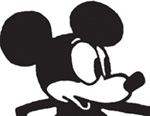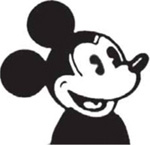 All images of Mickey Mouse are the copyrighted property of Walt Disney Productions
Real Or Repro is an industry resource powered by
a vetted marketplace of dealers and winner of numerous
Ecommerce Bytes Sellers Choice awards
for Quality, Usability, Customer Service, Communications and Most Recommended Selling Venue
---
So now,
Our Ruby Lane Shop Owners
invite You
to shop with them for the
Real Deal
on Ruby Lane ...