Additional New Styles of New Galle Cameo Glass Including Mold-blown PiecesBy
Mark Chervenka
Additional Styles of New Galle Cameo Glass Including Mold Blown Pieces
Reproduction cameo glass includes many new shapes as well as imitations of mold blown pieces (also called blow outs). Like much other new cameo introduced over the years past, these pieces also have a raised glass signature of ″Galle″. But these pieces are made in Romania and originally carry another raised signature of ″Tip″ (Fig. 3). Tip marks are generally ground off before the piece is offered for sale leaving only the Galle signature. In many cases black light will detect where the Tip mark has been removed.
Original mold blown cameo glass commands a premium price because it required more work and skill to make than ordinary cameo glass. Designs on ordinary production cameo were simply etched through multiple layers of glass. The depth of the decoration was limited by the thickness of the layers of overlapping glass. Designs on mold blown cameo have greater depth because the design projects out away from the surface before the etching process even begins. The extended design is created by blowing the glass blank in a mold with specially carved recessed areas in the shape of the pattern. Until recently, this technique had not been successfully duplicated in modern reproductions.
The reproductions do have considerable depth to their patterns so that isn't a reliable test of age. New pieces are however much thicker than originals. This is especially obvious when looking at the top rim. Rims on new also tend to be sheared off flat; originals are almost always rounded over in a curve or fire polished.
The Galle/TIP pieces are among the best quality of the cameo glass reproductions and are far superior to cameo reproductions from China and Taiwan. They feature multiple acid cuttings and many resemble original shapes.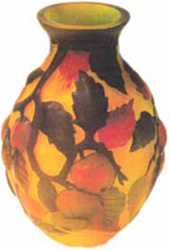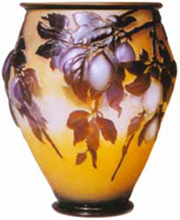 "Pssst....mister. Want to buy some cameo glass? Step into my showroom."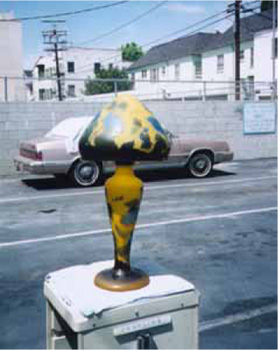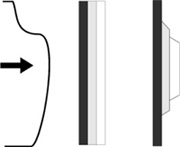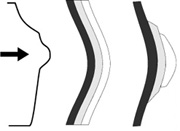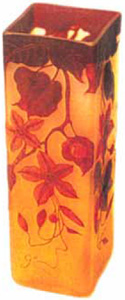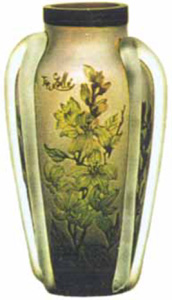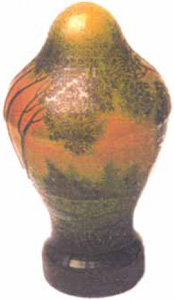 Figs. 7-9 All pieces are new and originally marked Galle and Tip.
Real Or Repro is an industry resource powered by
a vetted marketplace of dealers and winner of numerous
Ecommerce Bytes Sellers Choice awards
for Quality, Usability, Customer Service, Communications and Most Recommended Selling Venue
---
So now,
Our Ruby Lane Shop Owners
invite You
to shop with them for the
Real Deal
on Ruby Lane ...
View More Similar Items