Adam Butter DishBy
Mark Chervenka
Adam Butter Dish
Reproductions of the Adam pattern butter dish first appeared 1981. The pieces were made in Korea and sold in the United States by antique reproduction wholesalers. Colors offered were pink and green. There are several features to check to determine age.
Base: Turn the base over and look at it from above. There are four 'V' shaped figures around the pattern. On old bases (Fig. 2), these figures point to the sides of the base. On new bases, the figures point to the corners of the base (Fig. 1). You can also think of the arrows as points on a compass. In old bases the arrows line up at North, South, East and West. In new bases the arrows point to Northeast, Southeast, Southwest and Northwest.
Lid: There are two features to look at when examining lids (Fig. 3). On old lids, the veins in the large leaves touch each other or join a central vein. On new lids, the veins in the large leaves do not join the center vein or touch each other. Another way of identifying new lids is to turn the lid over and look at the spot directly under the knob handle.
In addition to the specific features listed above, new pieces generally show poor detail, have flaws and will vary in color more than old pieces. Most new pieces also have a slick or greasy feel.
Be sure to look at both lid and base when examining a butter dish. A new top or bottom might be 'married' to an original to complete a match.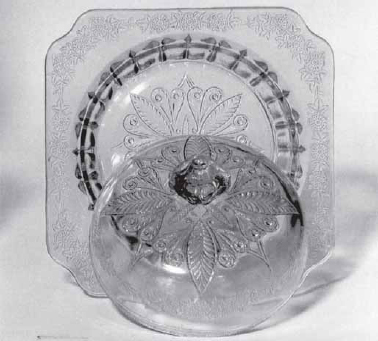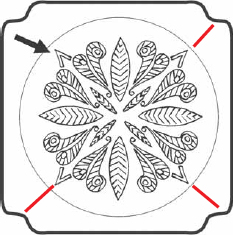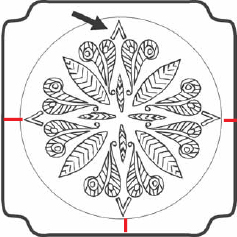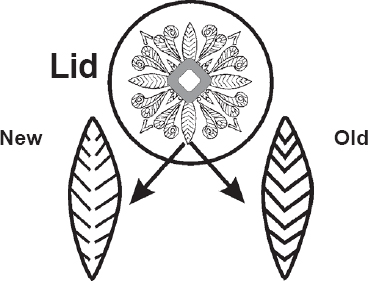 Real Or Repro is an industry resource powered by
a vetted marketplace of dealers and winner of numerous
Ecommerce Bytes Sellers Choice awards
for Quality, Usability, Customer Service, Communications and Most Recommended Selling Venue
---
So now,
Our Ruby Lane Shop Owners
invite You
to shop with them for the
Real Deal
on Ruby Lane ...
View More Similar Items