Acid Etched Forgeries of Lalique MarksBy
Mark Chervenka
Acid Etched Forgeries of Lalique Marks
Acid etched Lalique marks are much easier to catch than engraved forgeries. Why? Because genuine Lalique was virtually never marked with acid stamps. Marks on the vast majority of authentic pre-1945 Lalique were molded, hand engraved, or wheel cut. The only authentic pre-1945 Lalique mark that bears any resemblance to acid etching is a mark made by sand blasting through a stencil.
This mark is readily identified by the gaps in the letters left by the stencil (Fig. 2). Some have argued that this mark may also have been created by brushing acid through the stencil. We disagree. Our tests have shown that no matter how tightly stencils are held against the glass, etching fluid always leaks around the edges and smudges the lettering.
The only exceptions to the general rule are some commercial perfume bottles. Some Lalique-made commercial bottles do have authentic acid etched marks but those bottles are after 1945 and designed by Marc and Marie-Claude Lalique, not Rene Lalique. Those exceptions also almost always include the name of the perfume as well as Lalique (Fig. 1). In general, though, any acid etched mark on a piece of Lalique represented as made before 1940 is almost certainly a forgery.
The most expensive Lalique are those pieces designed and made under supervision of the founder, Rene Lalique. Lalique already had a successful career as jewelry designer and goldsmith by the time he became interested in glass around 1900. He made small scale experiments with glass until 1909 when he opened his first factory. Large scale production continued until Lalique's death in 1945. Pieces of glass made before the death of Rene are marked R. Lalique; the R was dropped after 1945. Many pieces made after 1945 are "enhanced" by forgers by adding an R to modern marks. Glass production was continued after Rene's death by his son Marc Lalique through the mid 1970s and after Marc's death by Marc's daughter, Marie-Claude.
Due to wide spread forgeries, marks are not a reliable test of age. Black light is a much better test of authenticity. All clear Lalique glass made before 1945 fluoresces yellow to yellow-green under long wave black light. Clear Lalique after 1945 was made with a different formula and fluoresces white to blue-white.
Lalique glass was widely copied by other contemporary glass makers in the 1920s and 1930s. Buyers may encounter forged Lalique marks on these genuinely old copies as well as faked marks applied to modern lookalike pieces now in current production.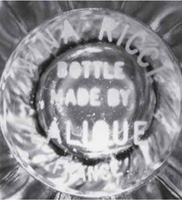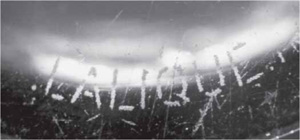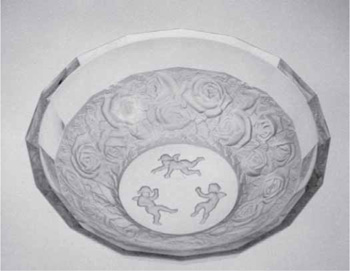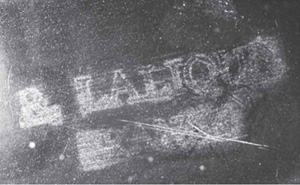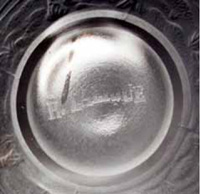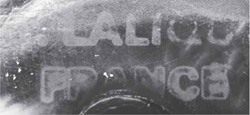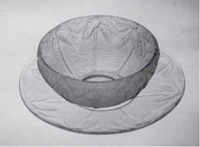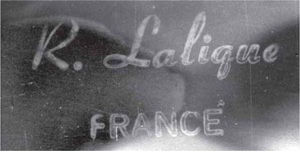 Real Or Repro is an industry resource powered by
a vetted marketplace of dealers and winner of numerous
Ecommerce Bytes Sellers Choice awards
for Quality, Usability, Customer Service, Communications and Most Recommended Selling Venue
---
So now,
Our Ruby Lane Shop Owners
invite You
to shop with them for the
Real Deal
on Ruby Lane ...
View More Similar Items