A Typical New Brides Basket FrameBy
Mark Chervenka
A Typical New Brides Basket Frame
Most reproduction wholesalers offer look-alike Victorian silver plate. One of the most common new items is a reproduction of a brides basket frame. In this article we'll compare a typical new frame to the features of typical old originals.
The frame in Fig. 1 is typical of the reproductions. First, it is not silver-plated; it is coated with a finish that is silver colored. This new finish does not tarnish like true silver which oxidizes. If a frame looks shiny all over, especially in places that would be hard to reach with polish, be very suspicious. Often no more examination is needed.
If you are still undecided, study how the piece was made. The vast majority of bases - meaning the feet and the holder the brides bowl sits in--on new frames are cast as one piece. Typical old frames are almost always assembled of separate pieces soldered together. That means the feet are made separately and individually soldered to the base. (see photos and illustrations below). In other words, the new cast bases show no seams; the old hand assembled frames show a number of seams.
This test is best used on the base. Handles and trim on the handles of both new and old are applied separately. New trim almost always lacks the sharp detail of old trim. Most new trim also shows "finning" where metal has leaked through the seams in a poorly fit mold. The new trim atop the handle in Fig. 1, for example, is supposed to be pierced with many openings. Almost all those openings look ragged because of finning. The soldering of all the new trim in Fig. 1 is very crude and rough. Puddles of solder and sharp edges around joints are rare in old pieces but common in the reproductions.
Another general test is simply weight. The solid areas created by casting make the new frames four to five times as heavy as old frames of similar shape and size.
If you determine the frame is new, be particularly suspicious of any bowl it's holding.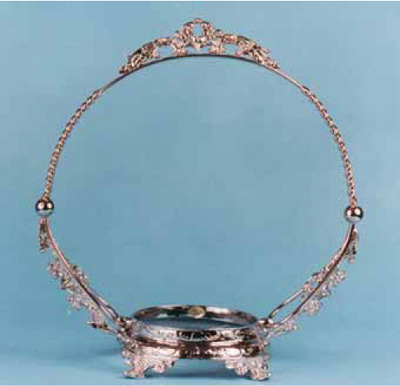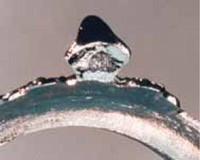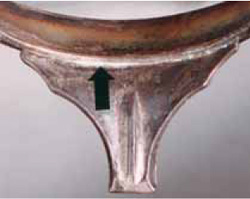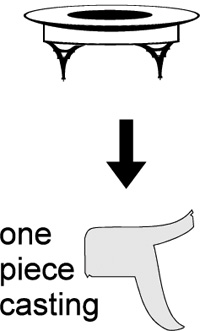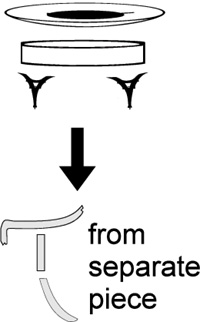 Real Or Repro is an industry resource powered by
a vetted marketplace of dealers and winner of numerous
Ecommerce Bytes Sellers Choice awards
for Quality, Usability, Customer Service, Communications and Most Recommended Selling Venue
---
So now,
Our Ruby Lane Shop Owners
invite You
to shop with them for the
Real Deal
on Ruby Lane ...