A Review of New Metal ToysBy
Mark Chervenka
A Review of New Metal Toys
A variety of reproduction metal toys have recently been introduced into the market ranging from tinplate to cast iron. Many are direct copies of original vintage toys. If buyers rely on pictures in reference books alone, they may be fooled into confusing the fakes with authentic toys.
The best way to detect the majority of factory made reproductions is to understand the differences between how new and old toys are made. This article will discuss the basic clues that determine when a toy was made.
Patina
One sign of authentic age is patina. True patina is a chemical change within the material at the surface of an object. Patina is generally formed when atoms at the surface combine with atoms of oxygen in the air. This causes metals such as silver and copper, and other metals for example, to darken.
Some patinas are deliberate and intentional like an artist applying a specific color of patina to a bronze sculpture. A patina of age, however, is more random and depends on many factors. These include what chemicals may have been in the air (wood smoke vs. coal smoke), humidity and exposure to sunlight (ultraviolet light).
The genuine patina of age that builds up over many years is very difficult to reproduce. Many metal reproductions today attempt to simulate genuine patina with paint (Figs. 1, 3, 5). Paint is applied over the surface; it is not actually a part of the surface like genuine patina. Painted "patina" on a single piece is almost always very uniform in appearance. True patina developed with age will virtually always vary in appearance on a single piece, from dark to light. The top side of a piece, for example, will usually show more patina than protected areas and the base of a piece.
Paint will chip or flake off; true patina does not. Paint removers like acetate or mineral spirits very rarely affects true patinas. They will remove soiling over the patina but not remove the patina itself.
Rust, a film or patina of oxidation that commonly appears on many iron toys is a good clue to age. The color of rust on new and old iron is different because the carbon content in new and old cast iron is different. Old cast iron made before 1930-1940 virtually always has a dark brown almost black surface on unpainted areas. New cast iron since WW II especially today's toy reproductions almost always produces red colored rust.
Printing on Tinplate
The vast majority of tinplate toys new and old– like the robot dog, Red Riding Hood tea set, penny toys and others– are decorated with full color printing. Tinplate toys can easily be dated once you understand the basics of color printing.
First, all tinplate toys, old and new, are printed by a process called offset lithography. This system of printing was invented about 1875. Unlike other methods of printing, the actual printing plate does not touch the material on which ink will be printed. The ink from the printing plate is transferred, or offset, to a rubber roller which deposits the ink (see Fig. 10).
All tinplate toys are offset printed on flat sheets of metal. The sheets are fed through a series of molds and cutters which create three dimensional formed and printed pieces ready to be assembled.
Although the printing process is essentially the same for old and new tinplate, there have been important changes in how the color plates are prepared. In vintage tinplate toys made up to about 1960s-70s, each color was printed with a separate printing plate. Purple and green for example, would each require their own plate. Some toys used up to 12 or more plates. Each separate color was printed solid (see Fig. 9).
Around the late 1970s, screened separations, long used in regular printing, begin to be used to create color on tinplate toys. In this process, the original full color image is broken down or separated into only four plates: black, magenta, cyan and yellow. By printing these four colors as tiny dots, an infinite variety of colors can be created. Green, for example, is formed by printing dots of yellow and cyan; purple by printing dots of cyan and magenta. The human eye mixes the dots in the brain and sees the single color.
Under 10X magnification the distinctive dot structure of the four colored dots is easy to identify (Fig. 8). Any metal toy printed with this structure is virtually certain to have been made since the 1980's.
This test is best used on areas that have many colors or areas that gradually change color. Large areas of solid single colors may not show the dot structure. The cart in (Fig. 11), for example, is a solid color and does not show the dot structure. However, the driver and horse which both show gradual shading do show the dot structure (Fig. 8).
Some very simple tinplate toys with only one or two colors are still being manufactured without the dot structure. Don't use printing dots as your sole test of age; use several tests.
Cast Iron Seams and Finishes
Original cast iron toys rarely have obvious casting flaws such as rough edges or raised seam lines. Almost all reproductions are crudely cast with rough pitted surfaces, obvious casting seams and "finning" thin flashes of iron that escapes through poorly fitting mold halves (Fig. 17).
The great majority of reproduction cast iron toys have crude wide gaps where the castings meet (Figs. 18-19, pg. 80.). Sections frequently do not line up with the mating surface leaving one section higher than the other. Original cast iron toys were generally finished by hand and almost always have tightly fitting seams with virtually never a space between castings (Fig. 20, pg. 80). Sections usually line up very evenly across the joint.
The halves of original cast iron toys are virtually always fastened together with flared or "peened" steel pins (a pin with a flat head on one end and pounded or stamped into a bulge at the other end). Although there are many kinds of original pins, two of the most common are shown in Figs. 21-22. Sections of reproduction cast iron toys are almost held together with screws especially Phillips head screws (Fig. 23).
Black Light
About 90% of all new toys tested by ACRN since 1992 fluoresce under long wave black light. This is especially true for the red and white paint on tin-plated toys and cast iron. It is extremely rare for paint on any original paint on pre-1940 metal toy to flouresce. Paint on original 1950-1970 metal toys generally does not fluorese but some might.
Always use several tests when dating metal toys. Be sure to give the entire toy a thorough examination.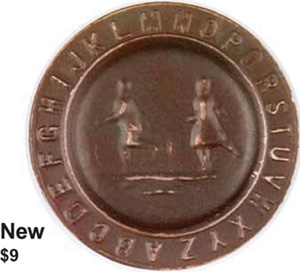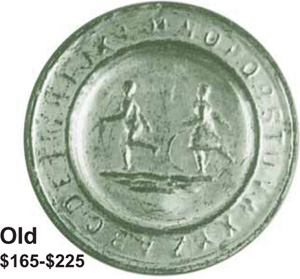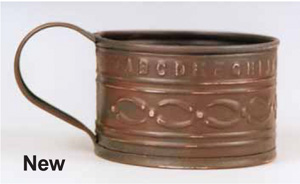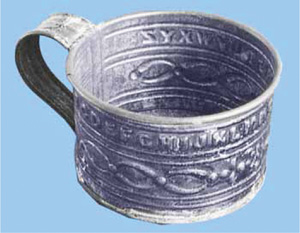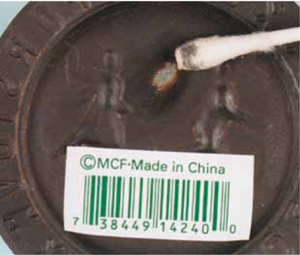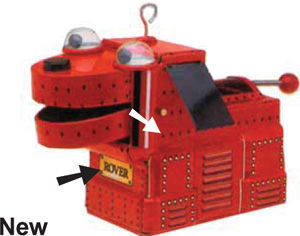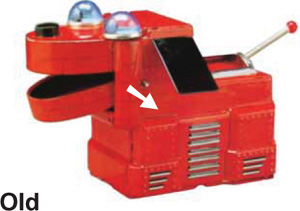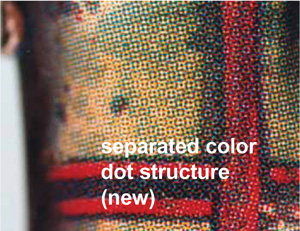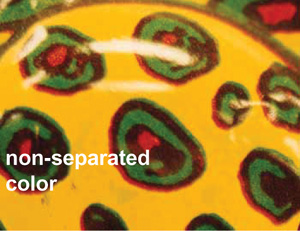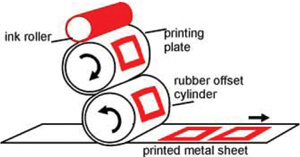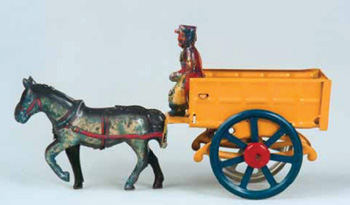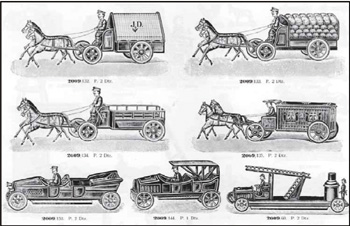 Editors Note

Penny toys are small toys, generally under 5″, made ca. 1890-1930 meant to be sold for one penny. Due to their small size and low price, many penny toys were originally sold in boxed lots to be used as Christmas tree ornaments or party favors. Penny toys were also used as giveaways with the purchase of other goods.