A Review of New JaditeBy
Mark Chervenka
A Review of New Jadite
In the late 1990s, antique dealers were happy when Martha Stewart began featuring pre-1960 jadite in her magazine and television shows. Millions of readers and viewers became interested in the pale green opaque kitchen glass and began driving prices of vintage pieces higher.
Great for the antiques business, right?
Maybe. Until the new demand for jadite brought on a flood of reproductions. New jadite, which first began appearing in Stewart's catalogs and website, was soon available anywhere for purchased and from almost everywhere from Cracker Barrel restaurants and Costco stores to giant discounters like Target and hundreds of web sources.
While many pieces of new jadite are clearly marked and pose no problem for collectors of vintage pieces, other new pieces were made in original molds and can cause confusion.
In this article, jadite is used as a generic term which refers to all pale green opaque glass. Most glass companies sold a line of jadite under their own trade names. Jeannette Glass Co. was the first to officially use Jadite as a line name, spelling it with one `e'. Anchor Hocking called its version Jade-ite, using a hyphen and two `e's. McKee Glass Co. sold the same type of glass under the names Skokie Green and Jade.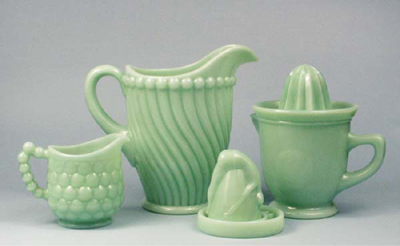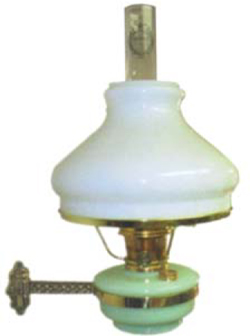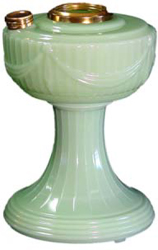 In 1999, Aladdin Industries–the corporate descendent of the original Aladdin lamp company–sold the lamp division to a group of collector-investors. The new company is known as Aladdin Mantle Lamp Co. which continues to sell lamps under the Aladdin name. No vintage Aladdin lamps were ever produced in jadite. The original Aladdin color closest to jadite was known as green Moonstone.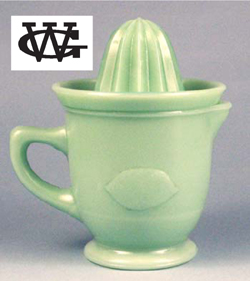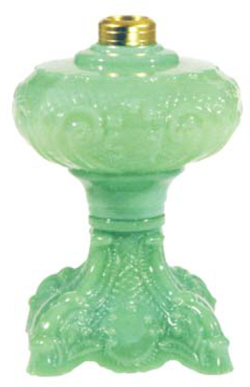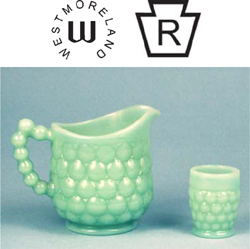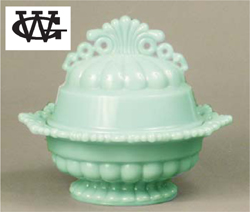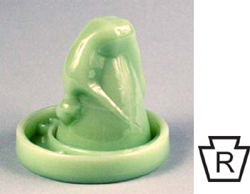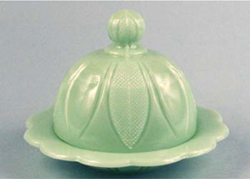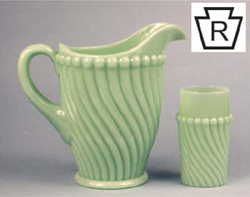 New Jade-ite from Anchor Hocking
Anchor Hocking, which made vintage opaque green glass under the trade name Jade-ite, has brought back the color in a new line of kitchen glass.
Fortunately, the new pieces are permanently marked and shouldn't pose a major problem to collectors of the vintage pieces. The new mark includes the date 2000, the first year the new pieces were introduced, and the Anchor Hocking trademark formed with the letter H and an anchor. Marks on some new Jade-ite also include "microwave and dishwasher safe" which never appeared in marks on vintage pieces.
Another important difference between old and new marks is the absence of Made in USA in new marks. New Anchor Hocking Jade-ite is made in China, not the USA. Marks on vintage Jade-ite include Made in USA.