1939 Worlds Fair Airplane LampBy
Mark Chervenka
1939 Worlds Fair
Airplane Lamp
In 1993, a series of Art Deco lamps was introduced featuring a chrome plated metal airplane on new glass bases. One of the glass bases is a copy of a 1939 New York Worlds Fair commemorative bottle.
The plane is similar to a DC-3 passenger plane; it has a 14-inch wing span, length 9 inches. There are seven passenger windows per side; the propellers spin. A ball joint permits the plane to rotate and tilt in all directions. Lights can be switched on in both the base and airplane, either separately or together.
The original Worlds Fair bottle, Fig. 3, was made in opaque white glass (milkglass) with a shiny finish. A diagonal banner across the bottle is embossed "1939 Worlds Fair" with the words separated by stars. The original bottle is 9 inches tall, 5 inches in diameter. Original production run bottles were never known to have been used as lamp bases.
The copy of the Fair bottle used as a lamp base is shown alone in Fig. 2; height 8 1/4". Note the cut neck and lack of threading in the bottle opening. Also note the extended base. The bottom of the new base is open for wiring; the bottom of the old is solid. The new "Worlds Fair" glass lamp bases are available in two colors: frosted clear and frosted cobalt blue. The original bottle is known in white opaque glass only.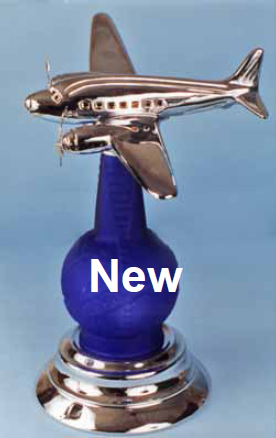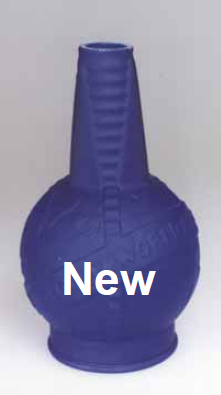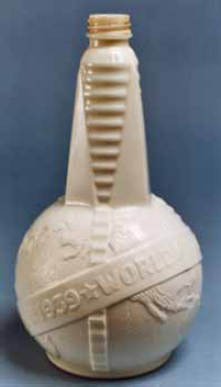 Fig. 3 (Old)