Confusing Kitchen Glass by Kitchen Glass by Martha StewartBy
Mark Chervenka
Confusing Kitchen Glass by Martha Stewart
Not a "Good thing"
Martha Stewart's mail order operation, Martha by Mail,offered a large variety of confusing reproduction and lookalike glassware.
New pieces included a wide range of styles from depression era kitchen jars to Victorian table wares. Most new pieces were available in the late 1990s. Like many other new goods which begin as legitimate decorators items, Stewart's new glass has gradually filtered into the antiques market and is causing some confusion. In this article we will describe the new pieces, show you what marks are used and advise you on potential problems.
General Overview
The majority of new Stewart pieces are made in a Jadite-type light green opaque glass. This green is a pale Jadite similar to Fire King Jadeite or early Fenton Jade Green. Many of the new pieces were never originally made in Jadite and in many cases, knowing the color quickly identifies the reproductions.
A more serious problem is with pieces made in milk glass like the covered turkey dishes and clear glass reproductions like the storage jars with ground glass stoppers. Pieces posing the biggest problems are discussed item by item below.
Turkey Covered Dishes
The covered turkey dish was available in milk glass and Jadite from Stewart for $25 each. It was made for Stewart by L.E. Smith glass company. Most Stewart turkeys have a molded "S" up under the base, the S a factory mark of Smith Glass, not Stewart.
We say "most" have the mark because the sample milk glass turkey purchased for this article was marked so faintly as to be invisible. If you didn't know exactly where to look and use a 10X loupe, you would not find the mark. The green turkey, however, was plainly marked.
Although L.E. Smith is still in production and currently selling the turkey, early Smith turkeys are highly collectible. Examples in milk glass, for example, sell for $100-150+. Generally speaking, unmarked pieces are from earlier production, marked pieces are newer2. That's why it's particularly discouraging to find the new milk glass turkey unmarked. True, the mark is obviously a part of the mold because the green turkey was marked but even a few unmarked milk glass pieces can be a problem.
Glass Jars with Ground Stoppers
Another potential problem product from Stewart is the new glass storage jar with ground glass stopper (Fig. 4). The new jars came in two sizes, 7½″ high and 9½″ high. Sides on both sizes are 4½″ X 4½″. Our samples were bought on sale for only $58 for the set of three. They were made by L.E. Smith but are unmarked.
Jar bodies are clear glass and the stoppers are transparent emerald green. The vast majority of original clear glass display or storage jars had matching clear glass stoppers. Old clear stoppers are hard to find and probably wouldn't fit new jars anyway so it's unlikely you'll find old stoppers on new jars. Be alert for the new jars to be offered as "rare" and unusual.
The jar bodies are very heavy glass not unlike original jars. Quality is not as good as originals and there is a very slight greenish cast to the glass but this is not noticeable unless you've examined many originals. An old fashioned plunger mark is the bottom of each jar.
Grinding around the jar opening is rougher than that found on originals and the new grinding follows a much more irregular horizontal line. Grinding on the stoppers is rougher than originals but completely fills the collar. But again, the grinding will probably not look much different if you haven't handled many originals.
Generally black light can help determine the age of clear glass but that is not true with old display jars. Old display jars were made with better, more optically clear glass. The better quality glass had less need of purifying, or masking, ingredients and so doesn't always contain manganese. Manganese is the ingredient that causes the vast majority of clear American pressed glass made before 1920-30 to fluoresce yellow green under long wave black light. The new Stewart clear jars do not fluoresce but neither do most old display jars.
Stewart also offered a Depression era style kitchen jar (Fig. 6). Those jars are one gallon size with metal lids painted a pale green; two jars sold for $16. Packed with the jars were instructions on how to paint the lids to create "an aged appearance" with dark colored wax and steel wool.
The two samples purchased for this article were very poorly made. Lids were difficult to screw on and would not seat properly. The lids fit so badly they would never keep insects or dust out of the jar. Anyone who tries to screw the lids on and off won't have any trouble recognizing these pieces as poorly made reproductions.
One probable reason for the poor fitting lids is that jars and lids were apparently made in two different countries. The cardboard liner in each lid is marked "Cap made in ROC" (Republic of China). Liners are easily removed.
Fenton "Chickenserver"
The turkeys are probably the most confusing of the covered animal dishes but one other deserves special mention, the Fenton "Chickenserver" (Fig. 2). The Chickenserver is a massive piece of glass with a 11x13″ base platter with 8″ nest. A matching 8″ hen fits over the nest. Our sample weighs 7 1/2 lbs.
Originals were first made by Fenton between 1953-56 then again in 1996-97 as a limited edition. The early 1950s versions are unmarked all white milk glass or milk glass with colored glass heads or occasionally milk glass bases with colored glass covers. The 1996 version sold by Fenton was decorated milk glass marked in the lid (only) and limited to 950 pieces. The Stewart version is in Jadeite, marked in the mold in the lid (only).
Original 1950s pieces can sell for $275-$375+ depending on the particular color combination. The Fenton 1996-97 piece sold for $112; the Stewart piece in Jadeite sells for $98.
Just keep in mind that the early pieces are unmarked. The 1990s versions–by Fenton and Stewart–are both marked in the lid with Fenton in an oval alongside the number 9.
Table Glass
The most numerous of the new Stewart glassware is tableware. All the pieces listed below are available in a light opaque green similar to Depression-era Jadeite and also available in opaque white milk glass.
Among the pieces of Stewart Jadeite tableware are:
*6 oz. paneled tumbler (similar but not exact match to Westmoreland 1776 Colonial)
*hobnail lamp
*13 oz. goblet/vase
*flowerpots with vertical ribbing around top rim in 2 1/4″, 3 1/2″ and 4 1/4″ heights.
*oaken bucket toothpick holder, 2¾″ tall (described as candleholder) originally made by Westmoreland
*pedestal cakestands–three different sizes with raised rims (Fig. 8), 8″-10″-12″. Also available is a scalloped edge version with fluted pedestal, 11″ (by L.E. Smith.)
*covered beehive honey dish/jam jar; 4 3/4″
*covered boxes: 2 1/2" × 3 1/2" × 4", and 3" × 3 1/2" × 5" boxes
Marks
Of the samples ordered by ACRN, only the cake stand in Fig. 8 was clearly marked as being from Stewart (see mark Fig. 11). The molded letter S (Fig. 9) and molded script letter S (Fig. 10) represent the L.E. Smith glass company, not Stewart. A Smith company representative told ACRN3 that the script S has been in use on a limited number of pieces since 1997. It is gradually replacing the regular letter S (Fig. 9) which was used ca. 1980s-late 1990s.
Many of the Stewart pieces are made by Fenton and are clearly marked in the mold. Any piece marked Fenton in the mold–regardless of the type of mark–cannot be earlier than 1973 which is the year Fenton began marking their pieces. In 1980, the number 8 was added next to the mark to indicate the decade of the 80s; in 1990, the number 9 was added for the decade of the 90s. Most Fenton follows this plan quite accurately but there are exceptions.
For example one of the covered milk glass animal dishes has a base marked with an F in an oval only, no decade mark. The lid of the same covered dish has the same mark but with the correct 9 for decade of the 1990s. So there are exceptions.
Not all of the new glass, like the display jars and storage jars, is marked and ACRN was not able to examine every piece of glass sold by Stewart. Some pieces not shown may have marks not reported in this article.
Summary
Throughout the 1990s, Martha Stewart's publications, television series and other projects gave antiques and collectibles a tremendous amount of valuable publicity. Without Stewart, the tremendous demand (and price rise) in garden ornaments would not have happened. Without Stewart, it could be argued, canoes, bird houses and other rustic knickknacks would still be languishing in sheds rather than wearing big prices at shows and shops. And without Stewart, the antiques business would have had few new trends to cater to, no national showcase to promote its wares and greatly reduced visibility.
Antiques Roadshow is educational but Martha Stewart Living creates demand.
That's why it's so frustrating to see someone who has been, up till now, so positive for the antiques hobby (and business) create yet more confusing reproductions. Why aren't all the confusing pieces of glass plainly marked Martha by Mail or some other straight forward wording like that found on the cakestand?
NOTES
1. See discussion on pgs. 177-178, The Milk Glass Book, Frank. Chiarenza and James Slater, Schifer Publishing.
2. Chiarenza, Frank. "Once Again, Whose Turkey is It?", Glass Collector's Digest, Feb/March 1999.
3. L.E. Smith Glass Co., telephone interview by Mark Chervenka, Editor, ACRN.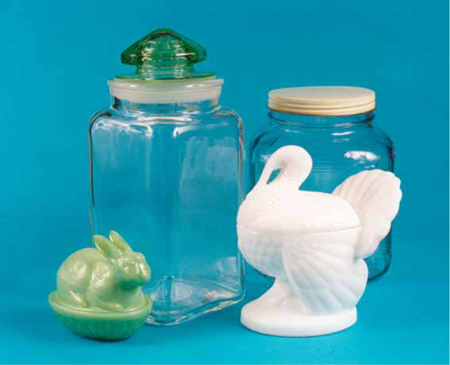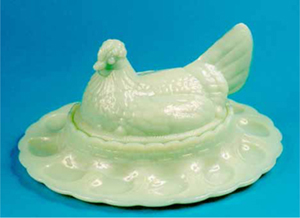 Original "Chickenserver" was made by Fenton between 1953 and 1956. Originals were available in all milk glass (#5189) or milk glass with the heads in various colors such as purple and green (#5188). The early Fenton pieces are not marked. The same item was offered again in 1996 by Fenton as Hen Egg Plate in white in a limited edition of 950. The 1996 pieces are also marked in the mold in the lid1.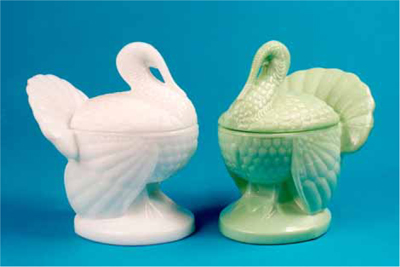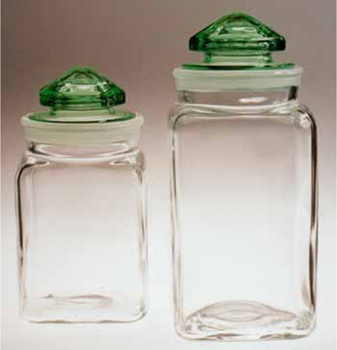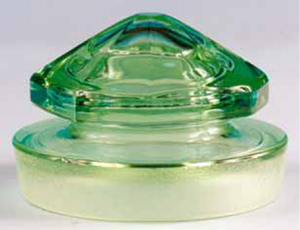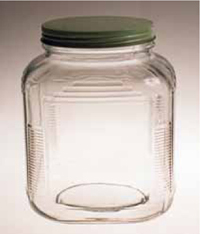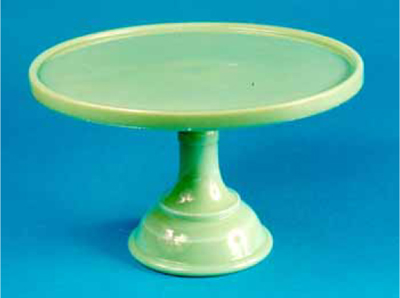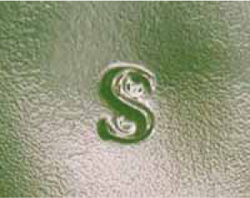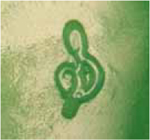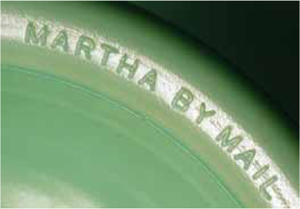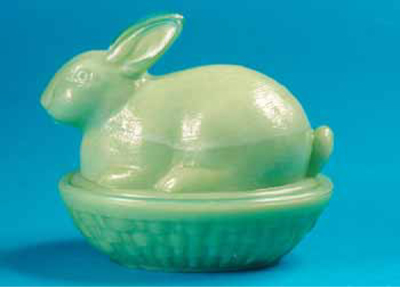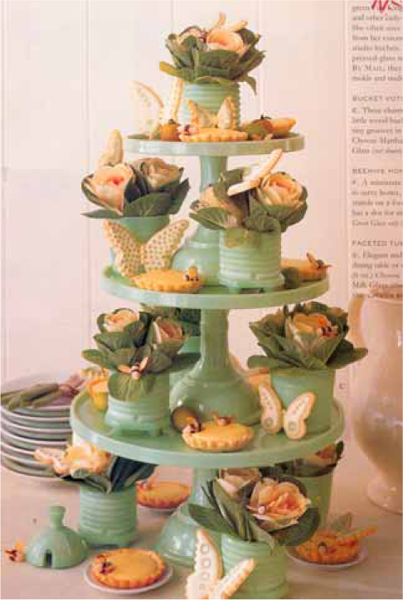 Real Or Repro is an industry resource powered by
a vetted marketplace of dealers and winner of numerous
Ecommerce Bytes Sellers Choice awards
for Quality, Usability, Customer Service, Communications and Most Recommended Selling Venue
---
So now,
Our Ruby Lane Shop Owners
invite You
to shop with them for the
Real Deal
on Ruby Lane ...