Antiques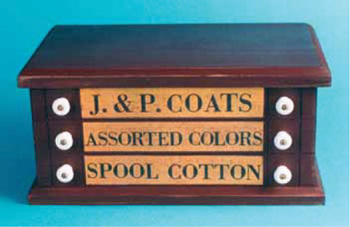 A series of small chests resembling antique spool cabinets have been sold in several holiday mail order catalogs. The new pieces are based on cabinets originally used by J P Coats a leading sewing thread manufacturer of the 19th and early 20th century. ...

Three legged, or tripod legged, tables have been one of the most popular shapes of antique furniture for years. They are relatively small and can be used in apartments as well as homes. Their size makes them easy to carry home in trunks and back seats of almost any kind of car and that means they ...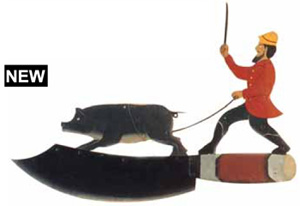 Authentic figural trade signs are recognized and prized as American folk art. They have been collected, admired and displayed in museums since the 1930s. Because of their popularity among collectors and use in interior design, original trade signs command high prices. Low wage workshops in ...
Fine Art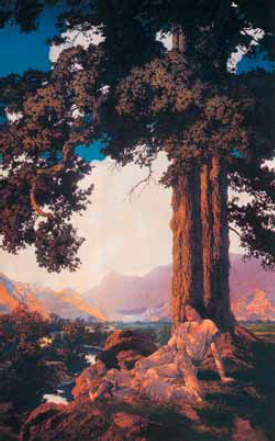 An unusually large reproduction print of Maxfield Parrishs Hilltop is currently on the market. What makes the print significant is its size, 36 high x 22 wide. It is the only Parrish illustration ever printed the same size as the original painting. ...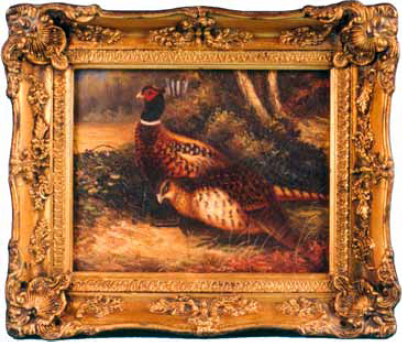 Imitation oil paintings with misleading paper labels on periodlooking frames have been fooling lots of buyers recently. The paper labels prominently feature London, Amsterdam, Paris and other European cities. Thick gold finished frames are heavy and highly decorated. The mostly Victorian subjects ...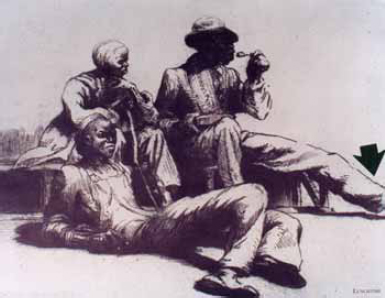 A southern antique reproduction wholesaler is offering a series of Black American images resembling original pencil or charcoal sketches. The series depicts five different pre-Civil War plantation images of slave life. ...
Books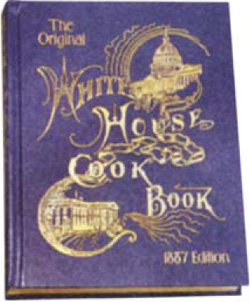 Although this is a legitimate new product, these nostalgic pieces almost always drift into internet auction sites and flea markets where they cause confusion. If the copyright page with the modern copyright is removed, one could mistake the new product for the 1887 original. ...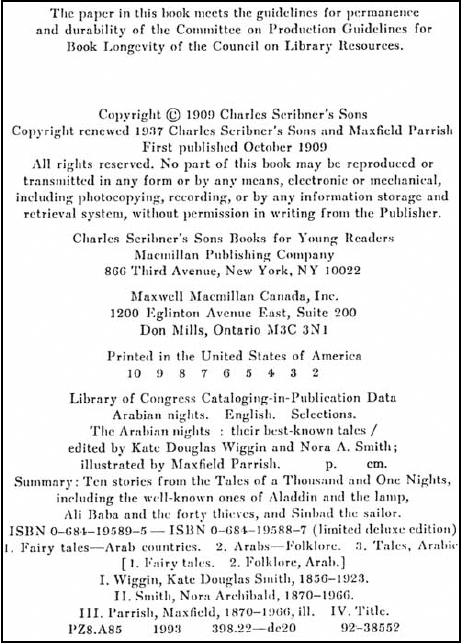 The Maxfield Parrish illustrated book The Arabian Nights, Their Best Known Tales was reissued by Charles Scribners Sons publishing in 1993. First printed in 1909 by Scribners, original copies of sell for $150-$250; the new reprints retailed for $25. ...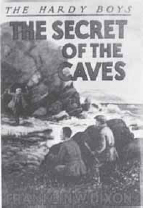 Gee whiz kids, The Hardy Boys Stories, The Nancy Drew Mystery Stories, and Tom Swift are back. These new hardcover editions come with the same dust jacket artwork, authors names and frontispiece illustrations found in the originals introduced in the late 1920s. Vintage books in these series average ...
Vintage Collectibles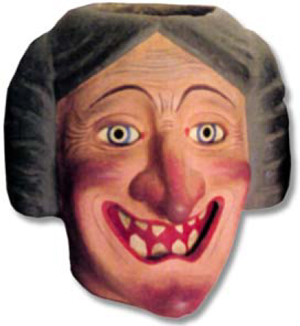 Very few categories of fakes and reproductions have shown the growth in numbers and improved manufacturing techniques as Halloween related objects. The rather crude lanterns and candy containers first reported nearly ten years ago have evolved into very carefully planned, well-made creations which ...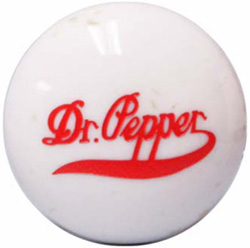 Genuinely old porcelain door knobs continue to be made with newly etched trademarks of collectible companies and brands. As first reported in ACRN in December 2001, the etching is about one-sixteenth inch below the surrounding surface. Etched areas are then colored to match colors used on the ...
Genuinely old door knobs in porcelain and glass are being etched with trademarks and logos of highly collectible companies. The etching is about one-sixteenth of an inch deep below the surrounding surface. After etching, the artwork and lettering are inked in matching colors: Coca-Cola is red, Ford ...
Dolls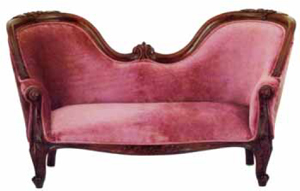 Many buyers well aware of full-sized reproductions of antique furniture may not know of many new doll and toy-sized versions of period styles. ...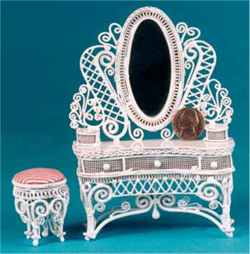 This new miniature vanity and stool were made of steel wire to resemble Victorian wicker. The vanity is 5 high; the stool, 1 high. A nickel is shown for size comparison. ...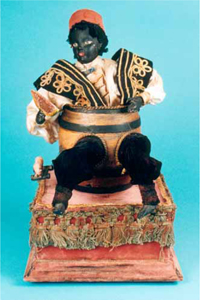 When the auctioneer said, "Sold.", Karen Delfinos parents thought they had bought their daughter a once in a lifetime birthday gift...a Victorian mechanical doll or automaton. ...
Glass

At least one restoration catalog source is offering glass door knobs closely resembling Depression-era originals. The 1 diameter knobs are sold in Jadite (opaque pale green), transparent apple green, transparent blue (peacock blue) and Delphite (opaque pale blue) and milk glass, and clear. Glass ...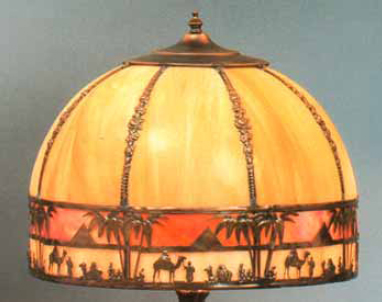 For many years, leaded shades have been the most reproduced kinds of antique shades. Now, reproductions of bent glass and panel shades are being seen more frequently. ...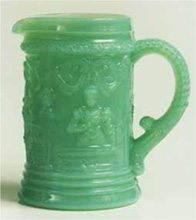 The so-called Lovers Stein also called Wedding Stein, and the similar Elf stein have been reproduced from the original Westmoreland Glass mold for a number of years. New pieces from the same mold are now being made with tooled spouts and sold as pitchers. No original pitchers in these patterns have ...
Jewelry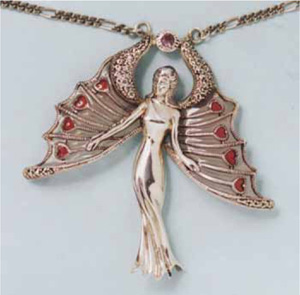 The term "plique jour" describes a technique of placing transparent enameling in a design made of wire filigree or other pierced metal. Viewed against the light, the effect is similar to a miniature stained glass window with glowing enamel framed by the wire or metal. ...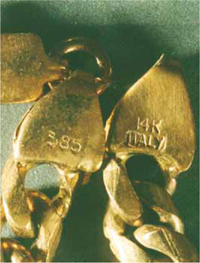 Two widely faked marks on base metals in the market are 14K Italy and 585 These forged marks commonly appear on pieces with no gold content. ...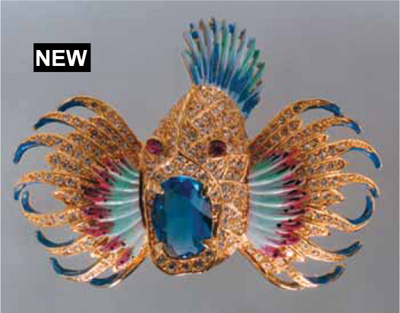 The costume jewelry market has seen an increasing number of pieces made from new molds taken from vintage originals. Dozens of familiar designs are being sold by operations in California, Florida and North Carolina, using production and assembly labor from different points overseas. Eisenberg, ...
Porcelain & Pottery
A just released holiday mail order catalog claims to sell a new Humpty Dumpty cookie jar made from an original mold from Brush Pottery. The new jar sells for $44. Original jars, made in 1956, sell for $250 and up. ...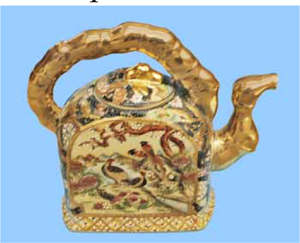 Heavy crude reproductions from China carry a potentially confusing Satsuma mark. Although there are no vintage comparable marks, the appearance of Satsuma in the new marks implies the new pieces are old. ...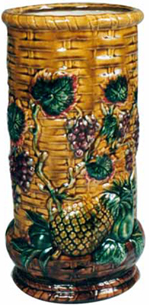 The continuing flood of reproductions pouring in from China now includes copies of Victorian majolica. Unlike most previous foreign made majolica reproductions, the majority of new Chinese pieces are close copies of specific originals. Beginning collectors or dealers with little experience in ...
Silver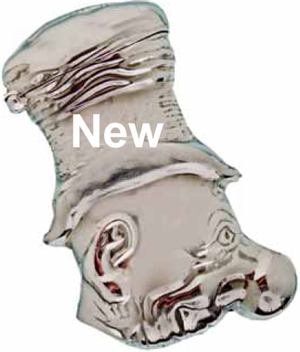 Several figural match safe reproductions have been causing confusion in shows and online auctions. All three known as Ally Sloper, banded Havana cigars, and Japanese dragon began appearing about the middle of 2004. All three new safes are copies of vintage originals. ...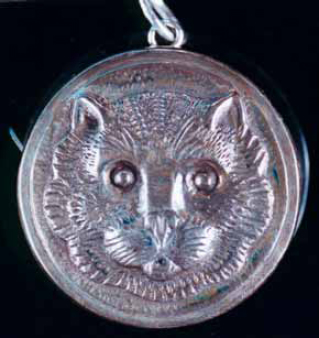 A U.S. west coast jewelry and gift wholesaler recently introduced an extensive line of Victorian look-alike sterling silver items at a major summer gift show. This line is being promoted as "Antique Reproductions - where the past meets the present." There are about 60 individual items ranging from ...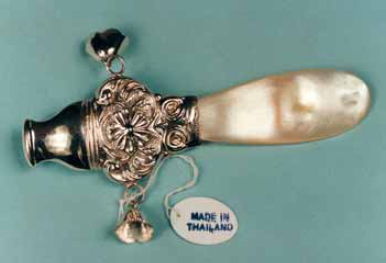 This new sterling novelty appeared in November - December, 1997 in a silver importers catalog. Its made in a loose copy of early 19th century silver originals. It has a whistle on one end, bells on either side and a mother of pearl teether; overall length, 4. Like many other new sterling items, this ...
We recently removed an article by Mark Chervenka, which a reader of ours, Mark Waller of Gallery Moderne in Piermont, New York, has described as containing inaccuracies. Our sincere apologies to Mr. Waller for any inconvenience caused.